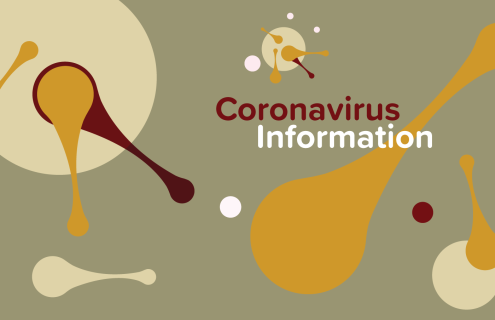 Misinformation continues to circulate about COVID-19 and the effectiveness and safety of vaccines, which have made a significant impact on the morbidity and mortality associated with this virus. Almost every healthcare institution has been faced with families still demanding alternative COVID-19 treatments that have no scientific evidence of their effectiveness. Dartmouth-Hitchcock Health (D-HH) continues to be a conduit of good data and truthful information for patients and community members.
Jose R. Mercado, MD, D-HH's COVID-19 Response Leader addresses the most common questions and concerns that have been circulating.
How do you talk to others about some of the misinformation about the vaccines and the virus that is still out there?
"We have heard of individuals intentionally trying to catch COVID-19. I can't emphasize enough that to go out and 'catch an infection' is a really bad idea, because you never know if you will have a mild infection or severe disease. We know that those with comorbidities are at a higher risk of severe illness or more likely to be hospitalized, and if you are not vaccinated, you are at a higher risk of dying from the virus. And for those who survive an acute infection, there is a likelihood of 'long COVID,' which involves a number of chronic symptoms like fatigue, memory issues, and the inability to get back to normal daily living. We are seeing a percentage of individuals, regardless of the severity of the infection, develop long COVID. We don't want to see unvaccinated people developing chronic conditions or dying as a result of trying to get infected."
What guidance would you give for having conversations with others looking for resources to share with families and friends about some of this misinformation?
"Vaccines remain the safest method of developing immunity or protection against COVID-19. It is also the best way to have durable, long-lasting immunity against this virus. Those who have chosen to get vaccinated and boosted should encourage others by sharing their experience and letting others know why they made the choice. Those who continue to feel hesitant should talk to their provider, or a trusted leader in their community, to make sure they are making decisions based on reliable information because this is a true life-or-death situation. We have data to show how vaccination protects not only the individual, but also their families and friends. We must do this for them, for our community and for our frontline healthcare workers, who have remained resilient and continued to provide quality care for our sick patients, throughout the pandemic."
What does the current state of COVID-19 look like in our communities?
"It is important to note that there may still be some degree of under-reporting of cases, given the challenges we face around testing, as well as the number of individuals who are experiencing mild symptoms or are asymptomatic who are not being tested. We need to remain vigilant, continue to follow mitigation strategies, and not assume too early that we are moving past this surge."
There's much in the news about when we'll see a peak from the current Omicron surge. When do you think we'll see that peak?
"We've seen Omicron surges last for three to five weeks from other states after it became the predominant circulating variant in the community. Given that, Omicron became the predominant variant a bit later in New Hampshire; we anticipate a couple more weeks where we might see a plateau in hospitalizations before it further declines. Our behavior is going to influence when we start to move out of this surge, and that's really the challenge. At-risk behaviors like travel and large gatherings have the potential to fuel additional spikes."
What does it mean when we say that COVID-19 will move from "pandemic" to "endemic," and when might that happen?
"Variants emerge as a result of replication. If we have a high volume of virus spreading in our community, there are more chances for it to replicate and for mutations to occur. If you stop the spread of infection, you reduce the chance of new variants emerging. The first step in preventing transmission is to be vaccinated, and if you are eligible for a booster, then you should be boosted.
We also need to follow the other mitigation strategies we have in place: wear a mask, physical distance and wash your hands. If everyone is following this strategy, we can significantly reduce the chances of transmission to help end this pandemic. Reaching an endemic state is when we achieve a sense of stability where we are not at risk of overwhelming the healthcare system and potentially compromising access to healthcare of patients with other chronic conditions other than COVID-19."
About Dartmouth-Hitchcock Health
Dartmouth-Hitchcock Health (D-HH), New Hampshire's only academic health system and the state's largest private employer, serves a population of 1.9 million across northern New England. D-HH provides access to more than 2,000 providers in almost every area of medicine, delivering care at its flagship hospital, Dartmouth-Hitchcock Medical Center (DHMC) in Lebanon, NH. DHMC was named again in 2020 as the #1 hospital in New Hampshire by U.S. News & World Report, and recognized for high performance in 9 clinical specialties and procedures. Dartmouth-Hitchcock Health includes the Norris Cotton Cancer Center, one of only 51 NCI-designated Comprehensive Cancer Centers in the nation Children's Hospital at Dartmouth-Hitchcock, the state's only children's hospital; member hospitals in Lebanon, Keene, and New London, NH, and Windsor, VT, and Visiting Nurse and Hospice for Vermont and New Hampshire; and 24 Dartmouth-Hitchcock clinics that provide ambulatory services across New Hampshire and Vermont. The D-HH system trains nearly 400 residents and fellows annually, and performs world-class research, in partnership with the Geisel School of Medicine at Dartmouth and the White River Junction VA Medical Center in White River Junction, VT.