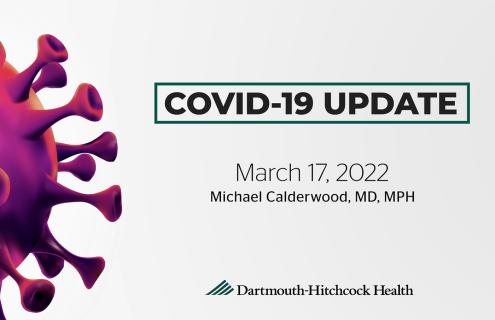 Dartmouth-Hitchcock Health has released a new COVID-19 update video with Michael S. Calderwood, MD, MPH, chief quality officer at Dartmouth-Hitchcock Medical Center. This video discusses the current state of COVID-19, updated masking recommendations and COVID-19 projections.
"We think we are going to reach a point where we continue with low level activity of this virus—what we describe as an endemic," said Calderwood. "We expect COVID-19 to reach a period where it is always present, but we have ways of protecting ourselves. We have vaccines that are incredibly protective against hospitalization and severe illness, medications you can take by mouth and monoclonal antibodies that can be given intravenously or intramuscularly. We are in a much different state than we were a year ago."
*Editor's Note: Producers and publishers have permission to use the YouTube file and content for publishing and distribution.
About Dartmouth-Hitchcock Health
Dartmouth-Hitchcock Health (D-HH), New Hampshire's only academic health system and the state's largest private employer, serves a population of 1.9 million across northern New England. D-HH provides access to more than 2,000 providers in almost every area of medicine, delivering care at its flagship hospital, Dartmouth-Hitchcock Medical Center (DHMC) in Lebanon, NH. DHMC was named again in 2020 as the #1 hospital in New Hampshire by U.S. News & World Report, and recognized for high performance in 9 clinical specialties and procedures. Dartmouth-Hitchcock Health includes the Norris Cotton Cancer Center, one of only 51 NCI-designated Comprehensive Cancer Centers in the nation Children's Hospital at Dartmouth-Hitchcock, the state's only children's hospital; member hospitals in Lebanon, Keene, and New London, NH, and Windsor, VT, and Visiting Nurse and Hospice for Vermont and New Hampshire; and 24 Dartmouth-Hitchcock clinics that provide ambulatory services across New Hampshire and Vermont. The D-HH system trains nearly 400 residents and fellows annually, and performs world-class research, in partnership with the Geisel School of Medicine at Dartmouth and the White River Junction VA Medical Center in White River Junction, VT.