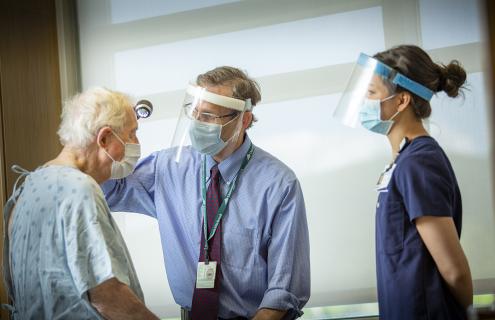 ...the [Dermatology] department has the great people, providers and infrastructure to elevate its status on a national scale in the areas of clinical care, research, teaching, clinical trials and more.
Shane Chapman, MD
Last year, the Section of Dermatology became a full, autonomous academic department, a status granted by the D-H Board of Trustees and the Dartmouth College Board of Trustees. Having demonstrated capacity to scale and deliver excellent academic experiences, the department is set to gain advantages in teaching, research, professional recruitments and patient care.
According to Shane Chapman, MD, chair of the Department of Dermatology, the department "has the great people, providers and infrastructure to elevate its status on a national scale in the areas of clinical care, research, teaching, clinical trials and more."
The 24 physicians on the Dermatology team practice at multiple Dartmouth-Hitchcock Health (D-HH) clinics in New Hampshire including Concord, Keene, Lebanon (APD and Heater Road), Manchester, Nashua and New London, with an additional outreach location in Littleton, NH, and Bennington, VT. The academic hub is at Dartmouth-Hitchcock Medical Center (DHMC) in Lebanon, and is comprised of professors, basic scientists, residents and fellows and an excellent top-notch support staff. The academic group completed 52,000 patient visits in FY21. Roughly 10 percent of appointments are delivered via telehealth, mostly for medication management and follow-up visits. This has proved especially beneficial to isotretinoin (Accutane) and biologic patients who need to be evaluated more often. "Adult patients and parents no longer have to leave work and take their children out of school for these visits," says Chapman. 
Almost as long as it has been a section (1947), the Dermatology Residency Training Program at Dartmouth was founded in 1948 and has a proud history of training residents to be competitive in all areas of dermatology upon graduation. The program is small, with three residents per year and a total of nine residents in the three-year program. This year alone, there were more than 600 applications for the first-year residency spots. 
The program provides residents a solid foundation for clinical practice. Residents are supervised by an attending physician each day and gain valuable experience and training at Heather Road, DHMC, the VA Medical Center and the Good Neighbor Clinic, a local "free clinic" for medically underserved patients that is staffed by Dartmouth-Hitchcock faculty. 
The department has 16 specialty clinics, including the new Down Syndrome Dermatology Clinic, Dermatology-Rheumatology Clinic and Dermatology-Psych Clinic, to name a few. Chapman says these clinics are a game changer for patients, who often suffer from multiple diseases and receive significant benefits from warms handoffs and collaboration between specialists. The department also offers a full suite of cosmetic services including laser treatments, scar revision, fillers, cool sculpting and more.
Chapman is excited about the future. There are seven clinical trials active now, with four more to be initiated in the next four months on psoriasis, eczema, basal cell carcinoma and blistering disease of the skin. 
Also, there is groundbreaking work taking place using medical informatics and AI to aid in determining cancer margins during Mohs surgery. 
In collaboration with The Geisel School of Medicine at Dartmouth, and the Department of Medical Education, Chapman is helping to roll out a combination class for medical school students which focuses on the intersection between immunology and dermatology and provides a unique and in-depth review of related dermatologic diseases. To enhance the learning experience, the class is taught in the second year of medical school with a "refresher" delivered in the fourth year. 
Chapman is very proud of the work taking place across D-HH. "We have a great team and are advancing dermatology care on behalf of our current and future patients, students and communities."