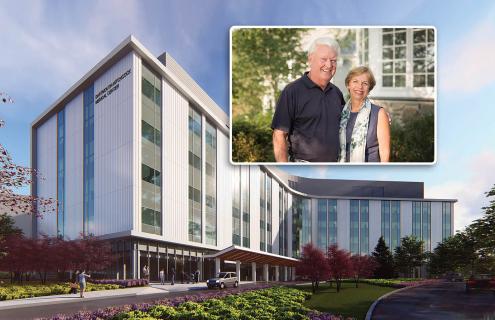 Dartmouth-Hitchcock is a critically important resource for the Upper Valley, and it's vital that those of us who have the ability to do so help to sustain it through our charitable giving.
Bill Conaty
Dartmouth-Hitchcock Health (D-HH) Trustee Bill Conaty and his wife, Sue, have made a $5.25 million gift commitment to help expand D-HH's ability to meet the critical needs of the region's most seriously ill patients. The gift, which is the second-largest in Dartmouth-Hitchcock history, will support the new five-story Patient Pavilion currently under construction at Dartmouth-Hitchcock Medical Center (DHMC) in Lebanon.
"This is an extraordinary gift and we are deeply grateful to Bill and Sue for their generosity," said Joanne M. Conroy, MD, CEO and President of Dartmouth-Hitchcock Health. "The new Patient Pavilion is critical to our ability to effectively serve the health care needs of our region, now and in the future. Philanthropy is key to the success of this project, and to the path we are charting for Dartmouth-Hitchcock Health. Bill and Sue's extraordinary leadership in supporting this vision makes the impact of their generosity all the greater."
The Patient Pavilion, set to open in 2023, will provide 64 patient rooms to help address the increasing needs of patients from around the region who require the high-level tertiary and quaternary care provided at DHMC, the state's only Trauma I Center. Nearly 300 critically ill patients are turned away every month due to lack of bed capacity at the hospital. The Pavilion will allow DHMC to provide high-quality care, close to home, and the Conatys' gift will ensure that each of these new patient rooms is a welcoming space for patient families and their loved ones.  
"Dartmouth-Hitchcock is a critically important resource for the Upper Valley, and it's vital that those of us who have the ability to do so help to sustain it through our charitable giving," said Bill Conaty. "As a trustee for the past nine years, I've been truly inspired by the skill and dedication of Dartmouth-Hitchcock's workforce. Sue and I are making this gift in support of the Patient Pavilion project in honor of all Dartmouth-Hitchcock Health employees and the high standard of professionalism and care that they bring to their work every day."
"As operating margins get tighter in healthcare, philanthropy is becoming even more critical to sustaining our work and with it the ability to serve our region," said D-HH Chief Financial Officer Daniel P. Jantzen. "Bill and Sue Conaty's investment in Dartmouth-Hitchcock is a recognition that community support is an essential component of the care we provide."
"It's truly a privilege to work with community members like Bill and Sue who are so committed to supporting our mission," said Matthew Haag, Vice President of Development & Alumni Relations, Dartmouth-Hitchcock/Geisel School of Medicine. "Thanks to them and so many others who have given generously during this past year, we will remember 2020 not just as a year of challenges but as a year filled with tremendous caring for others."
The Conatys' generosity over the past 10 years includes a 2015 gift commitment of $1 million that launched the Conaty Institute for Transformational Health Care Leadership, a program for current and future executive leaders to learn about the constantly evolving state of health care delivery, and how to inspire and manage teams with vision, inspiration, and emotional and social respect for others. The Conatys were also among the first to support D-HH's COVID-19 response fund, with a $100,000 donation. These and other gifts bring their total giving to Dartmouth-Hitchcock to more than $6.6 million.
"On behalf of D-HH and its employees we are immensely grateful to Bill and Sue for their landmark gift," said Edward Stansfield, chair of the Dartmouth-Hitchcock and Dartmouth-Hitchcock Health Boards of Trustees. "Bill is someone who leads by example, and with this gift he continues to do so. Bill and Sue's philanthropy should inspire all of us. I hope others will join them in supporting an organization that is so critical and vital to the health of Northern New England and whose employees have labored tirelessly not only throughout the pandemic but always. We are privileged to have his partnership in this initiative."
Bill Conaty served 40 years with General Electric, leading the global company's human resources strategy, talent recruitment and development and has served as chairman of the board of Bryant University for the past decade. He has been a member of the D-HH board for nearly nine years, and currently serves as a senior advisory partner at Clayton, Dubilier & Rice, a leading private equity firm based in New York City. He is also the co-author, with Ram Charan, of The Talent Masters: Why Smart Leaders put People before Numbers (2010). Sue is a committed volunteer working with youth in the public schools in Riviera Beach, FL and the Newport NH Food Pantry. They have made their home in the Upper Valley for more than three decades.
About Dartmouth-Hitchcock Health
Dartmouth-Hitchcock Health (D-HH), New Hampshire's only academic health system and the state's largest private employer, serves a population of 1.9 million across northern New England. D-HH provides access to more than 2,000 providers in almost every area of medicine, delivering care at its flagship hospital, Dartmouth-Hitchcock Medical Center (DHMC) in Lebanon, NH. DHMC was named again in 2020 as the #1 hospital in New Hampshire by U.S. News & World Report, and recognized for high performance in 9 clinical specialties and procedures. Dartmouth-Hitchcock Health includes the Norris Cotton Cancer Center, one of only 51 NCI-designated Comprehensive Cancer Centers in the nation Children's Hospital at Dartmouth-Hitchcock, the state's only children's hospital; member hospitals in Lebanon, Keene, and New London, NH, and Windsor, VT, and Visiting Nurse and Hospice for Vermont and New Hampshire; and 24 Dartmouth-Hitchcock clinics that provide ambulatory services across New Hampshire and Vermont. The D-HH system trains nearly 400 residents and fellows annually, and performs world-class research, in partnership with the Geisel School of Medicine at Dartmouth and the White River Junction VA Medical Center in White River Junction, VT.