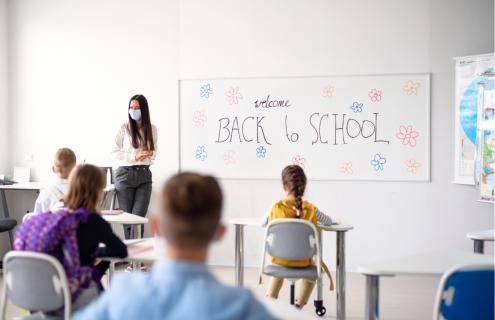 Ensuring health and safety during the COVID-19 pandemic required most students, parents and educators to spend the last 18 months juggling remote or hybrid learning. Students and teachers are now returning to the classroom while the Delta variant continues to spread through communities. While every school district has its own masking guidelines and other strategies in place to reduce COVID-19 illnesses, excitement and anxiety are common feelings shared by students, parents and teachers.
To help process and normalize those emotions, Dartmouth-Hitchcock Health (D-HH) recently kicked off the third installment of its virtual roundtable series: "Heads Up: Coping through COVID-19," with a session titled, "Returning to the Classroom: Excitement and Anxiety." The panel featured Steve Beals, principal of Alvirne High School in Hudson, New Hampshire; John Broderick, senior director of Public Affairs at Dartmouth-Hitchcock (D-H); Angelica Ladd, the parent of two daughters who are not old enough to be vaccinated; and Emmett Smyth, a high school freshman at Rivendell Academy in Orford, New Hampshire.
Beals shared the experiences of kids returning to Alvirne High School and its Career Technical Education Center. While masks are recommended in Hudson as the school year begins (which moves on a scale of discretionary, recommended and required as cases go up or down), many students and teachers are not wearing them. Beals chooses to wear one indoors daily to model that it's fine to do so—regardless of the current protocol. Sports, theater and extracurricular activities are being offered as they were pre-pandemic, and there is a general feeling of excitement throughout the school.
"As we open school in Hudson, our focal point is about teacher and student well-being. We opened our building with 15 brand-new educators. And what we are saying to them is it's okay to ask for help. Do not view asking for help as a weakness," said Beals. "We are fortunate at Alvirne High School that our staff cares about each other. And there is nothing more important in a school environment."
Smyth discussed how most of his middle school experience happened during COVID-19. While he was able to participate in theater remotely, he is starting high school without a typical middle school background. Smyth has to wear a mask at school but otherwise is "…excited to learn, to see the new curriculum, meet new teachers and just experience high school," he said.
Like many parents, Ladd was extremely anxious about sending her third grader to school and two-year-old to daycare. Without vaccinations available to them, she struggled with the decision but ultimately realized it was the best choice for her daughters. She shared how gathering reputable information helped her effectively weigh the pros and cons and led her to feel she made the best choice.
As the session concluded, Broderick encouraged students to reach out to trusted adults and know they are not alone.
"My advice to students... is to just be patient with yourself. If you have any worries or concerns, be free to talk about it. Talk to a teacher, talk to a counselor, talk to your parents, but know that it's okay to feel a little uncomfortable," he said. "You'll get back in the swing of things. It may take a little longer than you want, but it'll happen."
About Dartmouth-Hitchcock Health
Dartmouth-Hitchcock Health (D-HH), New Hampshire's only academic health system and the state's largest private employer, serves a population of 1.9 million across northern New England. D-HH provides access to more than 2,000 providers in almost every area of medicine, delivering care at its flagship hospital, Dartmouth-Hitchcock Medical Center (DHMC) in Lebanon, NH. DHMC was named again in 2020 as the #1 hospital in New Hampshire by U.S. News & World Report, and recognized for high performance in 9 clinical specialties and procedures. Dartmouth-Hitchcock Health includes the Norris Cotton Cancer Center, one of only 51 NCI-designated Comprehensive Cancer Centers in the nation Children's Hospital at Dartmouth-Hitchcock, the state's only children's hospital; member hospitals in Lebanon, Keene, and New London, NH, and Windsor, VT, and Visiting Nurse and Hospice for Vermont and New Hampshire; and 24 Dartmouth-Hitchcock clinics that provide ambulatory services across New Hampshire and Vermont. The D-HH system trains nearly 400 residents and fellows annually, and performs world-class research, in partnership with the Geisel School of Medicine at Dartmouth and the White River Junction VA Medical Center in White River Junction, VT.