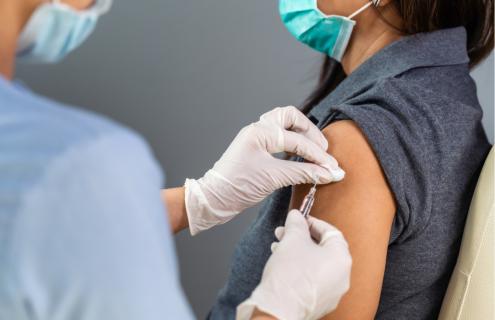 We are eager to partner with the state sites and to expand their vaccination capacity, and we are currently working with the state to assist with staffing and resource needs.
Sally A. Kraft, MD, MPH, Vice President of Population Health
Since the beginning of the rollout of COVID-19 vaccines across New Hampshire, Dartmouth-Hitchcock Health (D-HH) has been working to adhere to the State of New Hampshire's Interim Vaccination Plan and its guidelines to provide vaccine protection for the state's most vulnerable patients.
The state announced on Thursday, January 21, that these patients will only be vaccinated at the State's fixed sites, and that all patients between the ages of 16 and 64 with two or more high-risk health conditions will be required to provide a formal verification from their provider. In light of the limited supply of vaccine, the state will not provide Dartmouth-Hitchcock any vaccine in the near-term; instead we must direct our patients in Phase 1B to register using the state's registration process, which opened today. Patients who are younger than 65 years must receive an invitation from the state to register for their vaccine, once their medical condition has been verified.   
"Our highest priority has, and will continue to be, the health and safety of our patients," said D-HH CEO and President Joanne M. Conroy, MD. "We have been working within the State's Vaccination Plan guidelines and those of the CDC to facilitate vaccinations, first for our frontline health care workers and most vulnerable patients, and now for the elderly and those with high-risk medical conditions. We will continue that work as long as vaccine is available and allotted, and as directed by the state."
D-HH is using it's robust electronic medical record system to identify D-HH patients who are New Hampshire residents and have two or more high-risk health conditions as defined by the CDC—categorized as "medically vulnerable"—and D-HH providers will provide verification to the state on behalf of their patients. Required information will be transmitted securely to the state. Patients will be contacted by email or the "myD-H" patient portal when their verification information is sent to the state.
Within approximately five days after the state receives the verification information from D-HH, patients will receive an email which will allow them to schedule their vaccine at the state sites. A similar approach is being developed for those patients who do not have an email address on record. Those patients will be contacted by phone and the state is working to finalize those processes.  
The electronic transmission means that patients will not need to have paper forms filled out by their D-HH provider to verify their qualification for vaccination. The only information which D-HH will provide to the state will be name, phone number, email address (if there is one on file), and date of birth. D-HH care team members with access to the medical record will be able to check the record to ensure the verification information was sent.
D-HH is prepared to transmit the data on our patients to the state and will begin the data transfer for patients with emails on Friday January 22, once the state confirms they can accept the files.
"Since vaccines were approved for emergency use in December, D-HH has followed CDC guidance and the state's Vaccination Plan for administration of the vaccines," said D-HH Chief Legal Officer and General Counsel John P. Kacavas. "Ensuring that our patients have current and accurate information has been a priority for D-HH, an effort that has been complicated by the limited supply and allotment of vaccines."
With only 17,000 doses expected to be delivered weekly to the state in the near-term, and more than 300,000 New Hampshire patients to be vaccinated, completing this phase of the state Vaccination Plan will take time.
"While we had plans in place to vaccinate our patients who are deemed medically vulnerable, we learned Thursday morning that D-HH will not be receiving vaccines for our high risk patients, as previously thought, and that all vaccinations will be delivered through the state's fixed-site clinics that are open to all eligible people," said Sally A. Kraft, MD, MPH, Vice President of Population Health and who is overseeing D-HH's vaccination efforts. "We are eager to partner with the state sites and to expand their vaccination capacity, and we are currently working with the state to assist with staffing and resource needs." 
The state has also notified providers that vaccines will not be available to non-New Hampshire residents, whether or not they get their care from a D-HH member. 
On Monday, January 25, the State of Vermont will open registration, and make the website and phone line for scheduling available for COVID-19 vaccinations for Vermont residents 75 years or older. Vaccinations for this group of people will begin on January 27 in Vermont. 
In Massachusetts, Phase 2 will begin in February and will include residents who are 75 or older, those with two or more comorbidities, and residents and staff of public and low income affordable senior housing.
D-HH is continuing to monitor this evolving situation and is in frequent contact with the state about next steps, and hopes to offer vaccines to eligible patients once supplies increase and additional doses become available.
About Dartmouth-Hitchcock Health
Dartmouth-Hitchcock Health (D-HH), New Hampshire's only academic health system and the state's largest private employer, serves a population of 1.9 million across northern New England. D-HH provides access to more than 2,000 providers in almost every area of medicine, delivering care at its flagship hospital, Dartmouth-Hitchcock Medical Center (DHMC) in Lebanon, NH. DHMC was named again in 2020 as the #1 hospital in New Hampshire by U.S. News & World Report, and recognized for high performance in 9 clinical specialties and procedures. Dartmouth-Hitchcock Health includes the Norris Cotton Cancer Center, one of only 51 NCI-designated Comprehensive Cancer Centers in the nation Children's Hospital at Dartmouth-Hitchcock, the state's only children's hospital; member hospitals in Lebanon, Keene, and New London, NH, and Windsor, VT, and Visiting Nurse and Hospice for Vermont and New Hampshire; and 24 Dartmouth-Hitchcock clinics that provide ambulatory services across New Hampshire and Vermont. The D-HH system trains nearly 400 residents and fellows annually, and performs world-class research, in partnership with the Geisel School of Medicine at Dartmouth and the White River Junction VA Medical Center in White River Junction, VT.