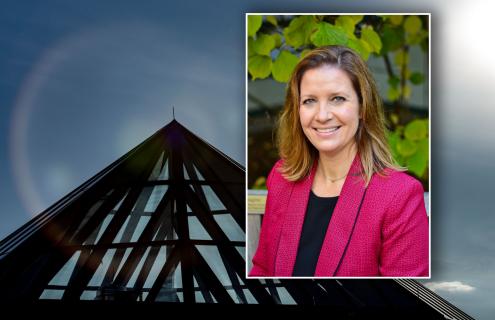 Staci's induction to the Carol Emmott Fellowship exemplifies the kind of leader she is and what an asset she is to D-HH. This well-deserved recognition is a prime example of the value she adds to our organization.
Joanne M. Conroy, MD, CEO and President of D-HH
Staci A. Hermann, PharmD, MS, Chief Pharmacy Officer at Dartmouth-Hitchcock Health (D-HH) joins 20 women leaders representing 20 organizations across 13 states for the Carol Emmott Fellowship Class of 2021. The Carol Emmott Fellowship is a signature program of The Carol Emmott Foundation, established in 2016, to address the underrepresentation of women in the highest levels of healthcare leadership and governance.
The Carol Emmott Fellowship is a prestigious, 14-month program for exceptional, innovative women leaders who are making lasting change in their communities and institutions, and serving as exemplary advocates for equity in the workplace and beyond.
"I'm deeply honored to have been selected for the 2021 Carol Emmott Fellowship Class and look forward to continuing the Dartmouth-Hitchcock Health legacy of supporting women healthcare leaders," said Hermann. "Previous fellows have shared what an amazing experience this is, I'm excited for the journey ahead."
Hermann has been Chief Pharmacy Officer at D-HH since 2018. Her responsibilities include oversight of D-HH's drug budget, expansion of retail and specialty pharmacy services, improving inpatient and infusion services, maximizing pharmaceutical contract value, system pharmacy operational and clinical integration initiatives, and leading health plan pharmaceutical initiatives. Hermann also plays an integral role in the D-H COVID Command team and will be responsible for ensuring all D-HH pharmacies are prepared for the various waves of the COVID-19 vaccine roll out.
Prior to joining D-HH, Hermann was the pharmacy operations and informatics manager at The University of Kansas Hospital from 2007 to 2012. She managed the pharmacy portion of Mass General Brigham's Epic project in 2013. She returned to pharmacy in 2014 as the Assistant Director of Pharmacy for Tufts Medical Center, and for Lahey Hospital and Clinics in 2015. Hermann became the System Director of Pharmacy for the D-HH system in 2016. She earned her PharmD degree from the University of Rhode Island and her master's in Hospital Pharmacy Administration from The University of Wisconsin-Madison.
"This is the most diverse class we've inducted since the program started five years ago," said Anne McCune, CEO of the Foundation. "As our nation continues to reel from the greatest health crisis in our lifetimes," she noted, "it's essential that we support and invest in women leaders in healthcare."
Carol Emmott Fellows are nominated by their sponsoring organizations. The competitive process includes the submission of an original impact project proposal designed to accelerate action toward equity in their institutions and communities. Fellowship recipients also receive mentorship throughout their tenure from nationally recognized senior executive health leaders.
"Dartmouth-Hitchcock Health and The Carol Emmott Foundation share the importance of investing in women leaders to help transform health care," said Joanne M. Conroy, MD, CEO and President of D-HH. "Staci's induction to the Carol Emmott Fellowship exemplifies the kind of leader she is and what an asset she is to D-HH. We are fortunate to have her at the helm of our pharmacy program, and this well-deserved recognition is a prime example of the value she adds to our organization."
Previous fellows from D-H include; former Vice President of Research Operations Leigh Burgess, MHA, MED, MA 2020, Vice President for Financial Planning Wendy Fielding, MBA 2019, Vice President of Regional and System Integration Mary Oseid, MHCDS 2019, Chief Medical Officer, Southern Region/Community Group Practice Maria Padin, MD, 2018, and Sr. Director of Pharmacy Marva Williams-Lowe, 2017.
Learn more about this year's Fellows, as well as the work and mission of The Carol Emmott Foundation, by visiting carolemmottfellowship.org/type/class-of-2021/.
About Dartmouth-Hitchcock Health
Dartmouth-Hitchcock Health (D-HH), New Hampshire's only academic health system and the state's largest private employer, serves a population of 1.9 million across northern New England. D-HH provides access to more than 2,000 providers in almost every area of medicine, delivering care at its flagship hospital, Dartmouth-Hitchcock Medical Center (DHMC) in Lebanon, NH. DHMC was named again in 2020 as the #1 hospital in New Hampshire by U.S. News & World Report, and recognized for high performance in 9 clinical specialties and procedures. Dartmouth-Hitchcock Health includes the Norris Cotton Cancer Center, one of only 51 NCI-designated Comprehensive Cancer Centers in the nation Children's Hospital at Dartmouth-Hitchcock, the state's only children's hospital; member hospitals in Lebanon, Keene, and New London, NH, and Windsor, VT, and Visiting Nurse and Hospice for Vermont and New Hampshire; and 24 Dartmouth-Hitchcock clinics that provide ambulatory services across New Hampshire and Vermont. The D-HH system trains nearly 400 residents and fellows annually, and performs world-class research, in partnership with the Geisel School of Medicine at Dartmouth and the White River Junction VA Medical Center in White River Junction, VT.