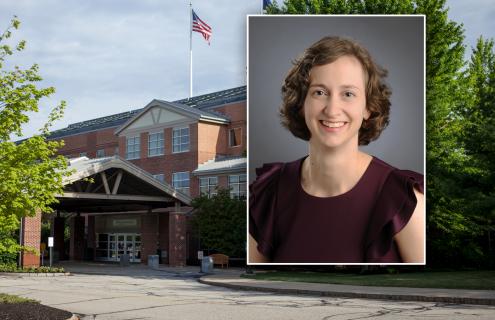 Since before the COVID-19 pandemic, it has been my dream to have a dermatology clinic specifically for people with Down syndrome – to really take our time to educate and empower.
Jillian F. Rork, MD
To address the unique dermatology needs of people with Down syndrome, Dartmouth-Hitchcock (D-H) is establishing a Down syndrome Dermatology Clinic at its Manchester clinic, set to open on Tuesday, September 21, 2021.
The program will be headed by dermatologist Jillian F. Rork, MD, in partnership with Caitlin M. Yazel, APRN. Rork became interested in working with people with Down syndrome during her pediatric internship at the Massachusetts General Hospital Down syndrome Program, where she saw firsthand the association between Down syndrome and various skin conditions.
"It turned into my mission and passion to take care of people with Down syndrome and change how they receive their skin care," Rork said. "Since before the COVID-19 pandemic, it has been my dream to have a dermatology clinic specifically for people with Down syndrome – to really take our time to educate and empower. We are excited to get started."
There are many associated skin conditions with Down syndrome, including dry skin, excessive dandruff, rashes around the mouth, acne in the groin and armpits (hidradenitis suppurativa), patchy hair loss (alopecia areata), vitiligo and toenail and foot fungus. Many of these skin conditions are treated with topical medicines. Rork and her team will work with their patients to understand their daily routines and devise successful treatment plans for their skin care needs.
Down syndrome is also linked with other medical conditions such as congenital heart disease, celiac disease, chronic ear infections and thyroid disease. The team will consider how treatment plans will affect other medical conditions common with Down syndrome.
Within six months, Rork hopes to develop the Down syndrome Dermatology Clinic's research and data-collecting capabilities. "We have much to learn to improve the lives of people with Down syndrome," said  Rork, who is partnering with the Pediatric Dermatology Research Alliance, the Society for Pediatric Dermatology, the National Down syndrome Congress and other organizations working to bring Down syndrome dermatology research to the forefront.
For more information or to schedule an appointment at the clinic, call D-H Manchester Dermatology at 603-695-2540.
About Dartmouth-Hitchcock
DARTMOUTH-HITCHCOCK HEALTH (D-HH), New Hampshire's only academic health system and the state's largest private employer, serves a population of 1.9 million across Northern New England. D-H provides access to more than 2,400 providers in almost every area of medicine, delivering care at its flagship hospital, Dartmouth-Hitchcock Medical Center (DHMC) in Lebanon, NH. DHMC was named in 2019 as the #1 hospital in New Hampshire by U.S. News & World Report, and recognized for high performance in 13 clinical specialties and procedures. Dartmouth-Hitchcock Health also includes the Norris Cotton Cancer Center, one of only 51 NCI-designated Comprehensive Cancer Centers in the nation; the Children's Hospital at Dartmouth-Hitchcock, the state's only children's hospital; affiliated member hospitals in Lebanon, Keene, and New London, NH, and Windsor, VT, and Visiting Nurse and Hospice for Vermont and New Hampshire; and 24 Dartmouth-Hitchcock clinics that provide ambulatory services across New Hampshire and Vermont. The D-H system trains nearly 400 residents and fellows annually, and performs world-class research, in partnership with the Geisel School of Medicine at Dartmouth and the White River Junction VA Medical Center in White River Junction, VT.