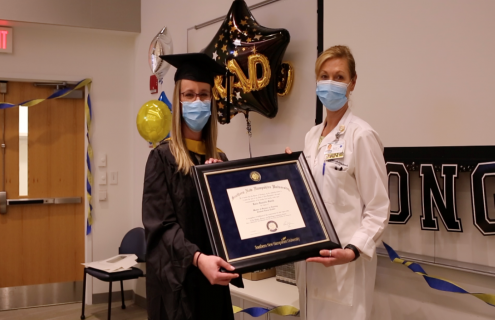 My superiors and colleagues at DHMC, and my instructors and advisor at SNHU, helped me to persevere through work, school and the pandemic, even when things got hard, and to finish strong.
Katie Smith, MSN, RN
To honor the academic and professional achievements of one of its nurses, Dartmouth-Hitchcock Medical Center (DHMC) recently hosted a graduation celebration for one of its nurses who earned a master's degree from Southern New Hampshire University (SNHU).
Katie Smith, MSN, RN, CNL is a resident of Newport, NH, and an Antibiotic Nurse Specialist in Infectious Disease and International Health at DHMC. Smith recently completed the Master of Science, Clinical Nurse Leader degree at SNHU. To celebrate Smith's accomplishment and thank her for her efforts as a frontline worker during the pandemic, Smith was surprised at DHMC with a diploma delivery from SNHU.
"Nurses are the backbone of our institution, and Katie is no exception," said Dartmouth-Hitchcock Chief Nursing Officer Karen Clements, BSN, RN, FACHE, who presented Smith her diploma. "For her to change positions to join our Infectious Disease clinic in the middle of a global pandemic, continue her studies to grow as a nurse leader, and never cease to provide outstanding care to her patients, demonstrates how our nurses go above and beyond each day. We are so proud to have Katie as part of D-H and look forward to her continued development as an invaluable part of our team."
Colleagues and supervisors of Smith and SNHU faculty and staff attended the celebration in person and virtually. The completion of Smith's master's degree and the diploma delivery coincided with National Nurses Week.
"For Katie to pursue her degree and finish it in the midst of a global pandemic really speaks to her grit and perseverance as a student and dedicated nurse," said Kristi Durette, Associate Vice President for Institutional Advancement at SNHU. "Everyone at SNHU is so proud of Katie and we're thrilled we were able to team up with DHMC to celebrate all of her accomplishments."
"This was definitely more than I expected for a graduation during a pandemic," Smith said in reaction to the surprise. "My superiors and colleagues at DHMC, my instructors and advisor at SNHU, and husband and family helped me to persevere through work, school and the pandemic, even when things got hard, and to finish strong. I'm definitely not the same nurse I was when I started, and I am excited to see where this next chapter of my career with DHMC takes me."
About Dartmouth-Hitchcock Health
Dartmouth-Hitchcock Health (D-HH), New Hampshire's only academic health system and the state's largest private employer, serves a population of 1.9 million across northern New England. D-HH provides access to more than 2,000 providers in almost every area of medicine, delivering care at its flagship hospital, Dartmouth-Hitchcock Medical Center (DHMC) in Lebanon, NH. DHMC was named again in 2020 as the #1 hospital in New Hampshire by U.S. News & World Report, and recognized for high performance in 9 clinical specialties and procedures. Dartmouth-Hitchcock Health includes the Norris Cotton Cancer Center, one of only 51 NCI-designated Comprehensive Cancer Centers in the nation; Children's Hospital at Dartmouth-Hitchcock, the state's only children's hospital; member hospitals in Lebanon, Keene, and New London, NH, and Windsor, VT, and Visiting Nurse and Hospice for Vermont and New Hampshire; and 24 Dartmouth-Hitchcock clinics that provide ambulatory services across New Hampshire and Vermont. The D-HH system trains nearly 400 residents and fellows annually, and performs world-class research, in partnership with the Geisel School of Medicine at Dartmouth and the White River Junction VA Medical Center in White River Junction, VT.