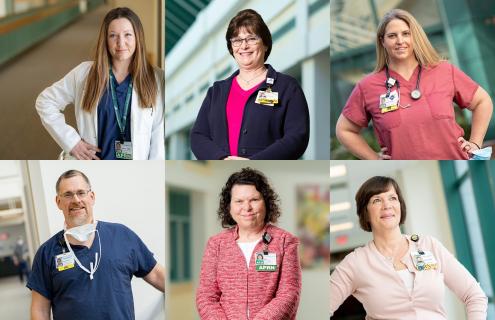 Six nurses from Dartmouth-Hitchcock (D-H) have been honored for their work with Excellence in Nursing Awards from New Hampshire Magazine and the New Hampshire Nurses Association. These peer-nominated awards recognize the state's very best nurses in 14 categories—those who go above and beyond to comfort, heal and educate.
D-H winners, by award category, include:
Advanced Practice Nursing: Jillian C. Belmont, MSN, DNP, APRN, AGACNP
Ambulatory Nursing: Lisa J. Wesinger, BSN, RN, BMTCN, OCN
Cardiovascular Nursing: John T. Flynn, BSN, RN-BC
Emergency Nursing: Janet L. Carroll, RN, CEN, SANE-A, SANE-P
Psychiatric and Mental Health Nursing: Evelyn M. Stacy, MS, APRN
Senior Nursing Leader: Margaret R. Georgia, BSN, MBA, RN, CCM
Each award nomination included answers to five essay questions to describe and demonstrate how the nurse met award category criteria. Nurses from the New Hampshire Nurses Association's Excellence in Nursing Task Force developed the award category criteria and reviewed and rated nominations to select the winners.
"D-H nurses are truly extraordinary. I am very proud to see six of our nurses receive this professional recognition from their peers," says Karen F. Clements, RN, FACHE, D-H chief nursing officer. "More than 80 New Hampshire nurses were nominated this year and the selection process was quite rigorous. To have so many award winners after such an unprecedented and challenging year is a testament to the exceptionally high caliber of nursing professionals in our organization."
Winner Profiles
Jillian C. Belmont, MSN, DNP, APRN, AGACNP, is recognized for excellence in advanced practice nursing. As the lead advanced practice provider for the Neurology Department at Dartmouth-Hitchcock Medical Center (DHMC) in Lebanon, Belmont develops and guides advanced practice providers to practice at the highest level of their license and training. She is president of the New Hampshire Nurse Practitioner Association and her clinical focus is stroke and stroke recovery. "As a member of the Neurology and Cerebrovascular teams, my focus is on providing the highest level of neurologic and stroke care possible to my patients. This means carefully listening, providing holistic evidenced-based care, as well as educating and counseling patients and caregivers to help empower them to adopt healthy lifestyle habits. I love to engage my patients' family and caregivers whenever possible in conversations for shared decision making."
Lisa J. Wesinger, BSN, RN, BMTCN, OCN, is recognized for excellence in ambulatory care nursing. Wesinger is a blood and marrow nurse navigator for the Hematology Department of Dartmouth's and Dartmouth-Hitchcock's Norris Cotton Cancer Center in Lebanon. She spent the first 21 years of her career as a hematology special care nurse caring for patients undergoing stem cell transplants. In 2019, she transitioned to her current role, where she guides patients and their families through the complexities of stem cell transplant and chimeric antigen receptor CAR T-cell therapy. Wesinger collaborates with patients to understand psychological and social barriers or ethical dilemmas to incorporate appropriate resources for the best possible patient outcomes. "I love what I do each and every day. Establishing and building trusting relationships with our patients and caregivers is the key to minimizing the overwhelming anxiety and fears most patients face when they learn a stem cell transplant is in their future. We all have a story to tell, and I love listening to our patient's stories."
John T. Flynn, BSN, RN-BC, is recognized for excellence in cardiovascular nursing. He is a clinical nurse in the Cardiology Catheterization Lab at DHMC. With more than 27 years of experience, Flynn serves as mentor, educator and informal leader to his colleagues. He is known for his excellent clinical skills, drive to teach, warm personality and desire to help and heal. Outside of work, Flynn is very active in the community, teaching ACLS (advanced cardiac life support) to first responders and BLS (basic life support) to community groups. He also volunteers with 4-H youth development programs. "My favorite part of what I do is being a member of our Heart & Vascular Center's team approach to patient care. This world class team of doctors, nurses and cardiovascular experts helped each other be well while facing overwhelming challenges this past year. Our leaders model and mentor this support, our staff show it to each other, and our patients benefit from our culture of kindness."
Janet L. Carroll, RN, CEN, SANE-A, SANE-P, is recognized for excellence in emergency nursing. She is the nurse manager of the Forensic Nursing Program for the Emergency Department at DHMC. Forensic nurses provide specialized medical forensic care to patients who have experienced acts of violent crime such as sexual assault, physical assault, domestic violence and human trafficking. Carroll developed D-H's sexual assault nursing examiner (SANE) program in 2006 and has provided program leadership since. In addition to her clinical practice, she is the co-director of the SANE Program at the New Hampshire Coalition against Domestic and Sexual Violence (NHCADSV) based in Concord. In this role, she coordinates New Hampshire's SANE program in conjunction with an interdisciplinary SANE Advisory Board. She is responsible for the education and competencies of New Hampshire nurses who are interested in assuming a forensic nursing role in the state. "I never thought of getting into forensic nursing until I was working nightshift and a woman came into the Emergency Department reporting sexual assault. It was a busy night, with high acuity and short staffing. She did not get the one-on-one care she needed. It was that moment that I decided to further explore forensics and it has grown from there."
Evelyn M. Stacy, MS, APRN, is recognized for excellence in psychiatric and mental health nursing. She is an advanced practice registered nurse in Psychiatric Services at D-H Manchester and has devoted her career to children and adolescents with behavior and neurological disorders. "I am grateful to be recognized for providing mental health care because it demonstrates that this is a crucial aspect of health care. Mental illness has been stigmatized for years and today, there is increased awareness that mental illness is a chronic health condition, just like other illnesses that children may face. Over the past year, children have struggled with remote learning, financial struggles within the family unit and lack of expected activities. There has been an increase in anxiety and depression due to the social isolation." 
Margaret R. Georgia, BSN, MBA, RN, CCM, is recognized for excellence in senior nursing leadership. Georgia is the director of Care Management at DHMC. She leads a team of registered nurses and social workers to manage discharge planning and hospital throughput for clinic and hospitalized patients. Georgia sets a high standard and enables and empowers her team to work to its highest level of function. She collaborates with Dartmouth-Hitchcock Health (D-HH) members Mt. Ascutney Hospital and Health Center, Alice Peck Day Memorial Hospital, New London Hospital and Visiting Nurse and Hospice for Vermont and New Hampshire to use a systems approach to manage complex patients, reducing the number of patients denied admission to DHMC. This supports the needs of patients from around the region who require the high-level tertiary and quaternary care provided at DHMC, the state's only Level 1 Trauma Center. "I am so humbled to receive this award. It takes a team to do what we do in Care Management, so this award is for all of us. I really enjoy my staff and working collaboratively with other disciplines in order to get patients what they need for their best outcomes. I like the problem solving that occurs and coming up with unique solutions."
Learn more about the Excellence in Nursing Awards.