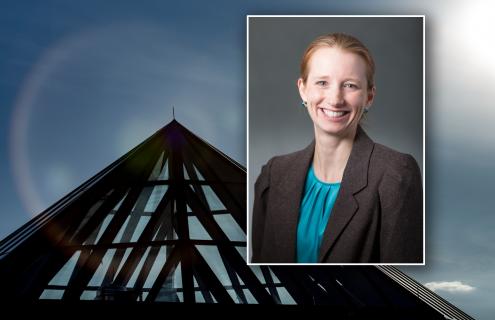 Laura J. Tafe, MD, associate professor of Pathology and Laboratory Medicine at the Geisel School of Medicine and assistant director of the Center for Clinical Genomics and Advanced Technologies (CGAT) at Dartmouth-Hitchcock Medical Center, has been elected the president-elect of the Association for Molecular Pathology (AMP) and will assume the position of president in the fall of 2022.
Founded in 1995, AMP provides structure and leadership to the emerging field of molecular diagnostics. As president, Tafe will be the chair of the Board of Directors and the Executive Committee, facilitate the evolution and implementation of the strategic plan, approve AMP public statements and act as an official AMP spokesperson.
"Both national and international members participate in this electoral process, and this outcome speaks volumes to the reputation that Dr. Tafe has in the field of molecular diagnostics and reflects highly on the impact of our clinical genomics program, our department, and our institution," says Gregory J. Tsongalis, PhD, HCLD, CC, director, CGAT.
In 2010, Tafe joined Dartmouth-Hitchcock and the Geisel School of Medicine as an assistant professor, with a split role in surgical pathology and molecular pathology where she assumed the role of assistant director. Promoted to associate professor in 2017, Tafe has been involved in the rapid growth and transition of the Molecular Pathology Laboratory in CGAT in the Department of Pathology and Laboratory Medicine. Tafe has been instrumental in overseeing the development of new molecular diagnostic assays for solid tumors, including DHMC's current 170 gene next-generation sequencing panel and future whole-exome sequencing to identify critical genes in tumors that can help direct treatment. She has more than 80 publications in the field of clinical genomics and is the co-editor of a new textbook, Genomic Medicine: A Practical Guide. Tafe has a growing national and international reputation and has served in other leadership roles and on multiple committees for AMP and the College of American Pathologists.
Tafe earned a medical degree from Wayne State University in Detroit, MI, after completing her undergraduate studies at Smith College in Northampton, MA. She then completed a pathology resident at DHMC and went on to Memorial Sloan Kettering Cancer Center for an oncologic surgical pathology fellowship and a molecular genetic pathology fellowship.
About AMP: AMP has more than 2,500 members, including individuals from academic and community medical centers, government, and industry; including pathologists, doctoral scientist laboratory directors, basic and translational scientists, technologists, and trainees. Dartmouth College now joins Emory University, ARUP Laboratories, and the University of North Carolina as institutions having more than one faculty as president of AMP since its inception.
About Dartmouth-Hitchcock Health
Dartmouth-Hitchcock Health (D-HH), New Hampshire's only academic health system and the state's largest private employer, serves a population of 1.9 million across northern New England. D-HH provides access to more than 2,000 providers in almost every area of medicine, delivering care at its flagship hospital, Dartmouth-Hitchcock Medical Center (DHMC) in Lebanon, NH. DHMC was named again in 2020 as the #1 hospital in New Hampshire by U.S. News & World Report, and recognized for high performance in 9 clinical specialties and procedures. Dartmouth-Hitchcock Health includes the Norris Cotton Cancer Center, one of only 51 NCI-designated Comprehensive Cancer Centers in the nation Children's Hospital at Dartmouth-Hitchcock, the state's only children's hospital; member hospitals in Lebanon, Keene, and New London, NH, and Windsor, VT, and Visiting Nurse and Hospice for Vermont and New Hampshire; and 24 Dartmouth-Hitchcock clinics that provide ambulatory services across New Hampshire and Vermont. The D-HH system trains nearly 400 residents and fellows annually, and performs world-class research, in partnership with the Geisel School of Medicine at Dartmouth and the White River Junction VA Medical Center in White River Junction, VT.
About the Geisel School of Medicine at Dartmouth
The Geisel School of Medicine at Dartmouth, founded in 1797, strives to improve the lives of the communities we serve through excellence in learning, discovery, and healing. The nation's fourth-oldest medical school, the Geisel School of Medicine has been home to many firsts in medical education, research and practice, including the discovery of the mechanism for how light resets biological clocks, creating the first multispecialty intensive care unit, the first comprehensive examination of U.S. health care cost variations (The Dartmouth Atlas), and the first Center for Health Care Delivery Science, which launched in 2010. As one of America's top medical schools, Dartmouth's Geisel School of Medicine is committed to training new generations of physician leaders who will help solve our most vexing challenges in health care.