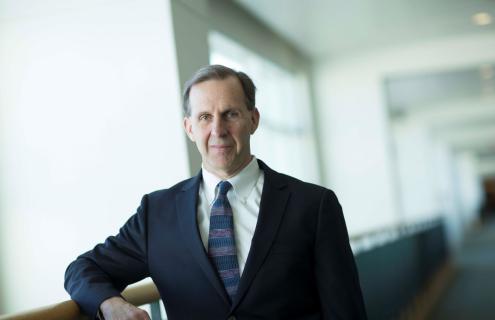 Being part of this process of decreasing that gap and expanding services to people who need them is what I've been doing throughout my entire career.
William C. Torrey, MD
Researchers from Dartmouth-Hitchcock (D-H), the Center for Technology and Behavioral Health (CTBH) at Dartmouth's Geisel School of Medicine, and Pontificia Universidad Javeriana in Bogotá, Colombia, have received an award from Colombia's National Academy of Medicine for their work implementing a new primary care model for widespread access to diagnosis and treatment of depression and unhealthy alcohol use. This care model harnesses mobile health technology to increase the reach of science-based mental health care.
Working together with Colombian community and governmental partners, William C. Torrey, MD, Interim Chair of the Department of Psychiatry at D-H, along with a team of investigators, assessed the impact of building a primary care infrastructure to support research capacity, as well as sustainability of the new service delivery model in Colombia.
"Being part of this process of decreasing that gap and expanding services to people who need them is what I've been doing throughout my entire career," Torrey says. "This intervention had a significant impact on the lives of people in the study. Patients said it is a relief to be able to talk to their doctor about these issues, to get help, and to feel validated. Prior to the study these issues were not discussed."
Depression and alcohol use disorder are among the most common causes of disability and death worldwide. The healthcare workforce in low- to middle-income countries like Colombia, where where the burden of mental health problems is high and services for mental health are low, is significantly insufficient, with just one psychiatrist per 200,000 people and even fewer mental health care providers trained in the delivery of psychosocial interventions.
Torrey has more than a decade of practical experience in building support for mental health and addiction in primary care systems throughout D-H community groups, and is familiar with its challenges, such as how primary care doctors respond, take ownership, and talk to patients about depression and alcohol use.
This research was supported by the National Institute of Mental Health (NIMH) of the National Institutes of Health (award U19 MH-109988).
To read the full press release, click here.
About Dartmouth-Hitchcock
DARTMOUTH-HITCHCOCK HEALTH (D-HH), New Hampshire's only academic health system and the state's largest private employer, serves a population of 1.9 million across Northern New England. D-H provides access to more than 2,400 providers in almost every area of medicine, delivering care at its flagship hospital, Dartmouth-Hitchcock Medical Center (DHMC) in Lebanon, NH. DHMC was named in 2019 as the #1 hospital in New Hampshire by U.S. News & World Report, and recognized for high performance in 13 clinical specialties and procedures. Dartmouth-Hitchcock Health also includes the Norris Cotton Cancer Center, one of only 51 NCI-designated Comprehensive Cancer Centers in the nation; the Children's Hospital at Dartmouth-Hitchcock, the state's only children's hospital; affiliated member hospitals in Lebanon, Keene, and New London, NH, and Windsor, VT, and Visiting Nurse and Hospice for Vermont and New Hampshire; and 24 Dartmouth-Hitchcock clinics that provide ambulatory services across New Hampshire and Vermont. The D-H system trains nearly 400 residents and fellows annually, and performs world-class research, in partnership with the Geisel School of Medicine at Dartmouth and the White River Junction VA Medical Center in White River Junction, VT.