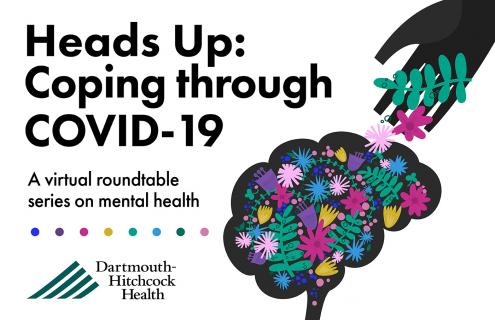 Dartmouth-Hitchcock (D-H), which delivers care for a population of more than 1.9 million people across northern New England, is re-launching its popular virtual roundtable series, "Heads Up: Coping Through COVID-19" in response to the ongoing mental and physical health implications of the COVID-19 pandemic. The nine-part series, which begins Wednesday, February 10, at 4pm EST with a discussion on the anxiety of contracting COVID-19 and the lingering health effects of the virus, can be viewed every other Wednesday on the Dartmouth-Hitchcock Facebook page and Dartmouth-Hitchcock YouTube page.
The series will feature D-H experts and community members discussing the challenges and concerns brought about by the pandemic and offer information, tips and techniques for coping and maintaining health, wellness and connection as the pandemic continues to affect the world.
The first "Heads-Up: Coping Through COVID-19" series, which was produced in the early months of the pandemic, focused on the challenges and concerns brought about by the pandemic and social isolation.
"In the midst of this ongoing pandemic, we realized that while there is hope on the horizon with many getting vaccinated and new vaccines being made available, the challenges of continued isolation, remote learning and other changes brought on by the pandemic are still very real and many are struggling," said Joanne M. Conroy, M.D., CEO and President of Dartmouth-Hitchcock and Dartmouth-Hitchcock Health. "We wanted to bring back this popular series to address these important topics."
"Heads Up: Coping Through COVID-19" will cover topics ranging from the experience of people who have contracted COVID-19, teens and parents who may be struggling with remote learning and social isolation, staying physically active and mentally healthy in the winter months, the challenges frontline workers face, and helping seniors stay connected and engaged.
The Experience of Having COVID-19 will feature Elizabeth Talbot, MD, deputy New Hampshire state epidemiologist and physician in the Section of Infectious Diseases and International Health at D-H; William Torrey, MD, interim chair of the Department of Psychiatry at D-H; and Jennifer Saucier, a physical education teacher in Merrimack who contracted COVID-19 and continues to deal with lingering health effects. The panel will discuss the anxiety and feelings around testing positive for COVID-19, social isolation and managing COVID-19 symptoms. The segment will be available on Wednesday, February 10, at 4pm EST.
Additional "Heads Up: Coping Through COVID-19" segments are:
Wednesday, February 24, 4pm EST: Understanding the COVID Vaccine – will address frequently asked questions, anxiety and uncertainty about the COVID-19 vaccine.
Wednesday, March 10, 4pm EST: Maintaining a Healthy Body and Healthy Mind During COVID-19 - will address the relationship between physical activity and mental health, and how to stay active in colder weather with limited gym access.
Wednesday, March 24, 4pm EST: Parenting Young Children through Remote Learning - panelists to be announced, will address lack of broadband/high-speed internet access in rural parts of New Hampshire and worries parents have for their kids and remote learning.
Wednesday, April 7, 4pm EST: The Struggles of Learning in a Remote Environment Learning: Part One – will address the emotional challenges teens face when they go to school remotely.
Wednesday, April 14, 4pm EST: The Struggles of Learning in a Remote Environment: Part Two – will address additional challenges teens face.
Wednesday, April 28, 4pm EST: Maintaining Health care Needs during COVID – will address fear and anxiety of going to urgent care or doctor's office, the effects of delaying health care treatment, and what can be done to keep patients and providers safe.
Wednesday, May 5, 4pm EST: Working through Challenges as a Frontline Worker – will address anxiety of frontline workers' potential exposure to COVID-19 in their workplace through interactions with the public, discarded masks and other risks.
Wednesday, May 19, 4 p.m. EST: Staying Connected as a Senior during COVID-19 will address when seniors can safely resume day-to-day activities and next steps after they get vaccinated.
The public is invited to submit questions for the experts prior to each roundtable at social@hitchcock.org. Each segment will be archived on the D-H Facebook page and available on the D-H YouTube channel for later viewing.
For more information about the "Heads Up: Coping through COVID-19" virtual roundtable series, please visit go.d-h.org/headsup.
About Dartmouth-Hitchcock Health
Dartmouth-Hitchcock Health (D-HH), New Hampshire's only academic health system and the state's largest private employer, serves a population of 1.9 million across northern New England. D-HH provides access to more than 2,000 providers in almost every area of medicine, delivering care at its flagship hospital, Dartmouth-Hitchcock Medical Center (DHMC) in Lebanon, NH. DHMC was named again in 2020 as the #1 hospital in New Hampshire by U.S. News & World Report, and recognized for high performance in 9 clinical specialties and procedures. Dartmouth-Hitchcock Health includes the Norris Cotton Cancer Center, one of only 51 NCI-designated Comprehensive Cancer Centers in the nation; Children's Hospital at Dartmouth-Hitchcock, the state's only children's hospital; member hospitals in Lebanon, Keene, and New London, NH, and Windsor, VT, and Visiting Nurse and Hospice for Vermont and New Hampshire; and 24 Dartmouth-Hitchcock clinics that provide ambulatory services across New Hampshire and Vermont. The D-HH system trains nearly 400 residents and fellows annually, and performs world-class research, in partnership with the Geisel School of Medicine at Dartmouth and the White River Junction VA Medical Center in White River Junction, VT.