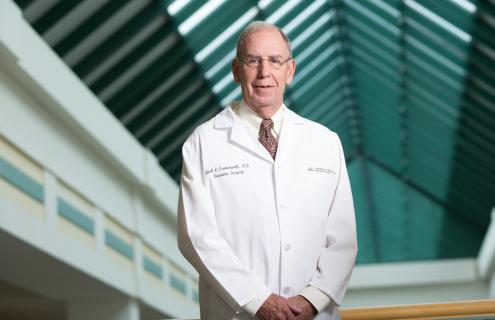 Jack L. Cronenwett, MD, a vascular surgeon at Dartmouth-Hitchcock (D-H) and Emeritus Professor of Surgery at Dartmouth's Geisel School of Medicine, has been recognized for his contributions to improving and advancing vascular care by The Society for Vascular Surgery Vascular Quality Initiative (SVS VQI) with the creation of the Jack L. Cronenwett, MD Quality Improvement Scholarship Award.
The $50,000 educational scholarship will support the academic endeavors of up to five top vascular-medicine students each calendar year.
"It is a distinct honor to have this scholarship created in my name," said Cronenwett. "With this scholarship supporting the academic and medical pursuits of the next generation of vascular-medicine professionals, I look forward to seeing how these scholars will further their knowledge of quality and contribute to the greater medical community."
The SVS VQI, founded by Cronenwett in 2011, is a nonprofit organization comprised of vascular surgeons, radiologists, cardiologists and other specialists who are dedicated to improving vascular quality in medicine.
About Dartmouth-Hitchcock Health
Dartmouth-Hitchcock Health (D-HH), New Hampshire's only academic health system and the state's largest private employer, serves a population of 1.9 million across northern New England. D-HH provides access to more than 2,000 providers in almost every area of medicine, delivering care at its flagship hospital, Dartmouth-Hitchcock Medical Center (DHMC) in Lebanon, NH. DHMC was named again in 2020 as the #1 hospital in New Hampshire by U.S. News & World Report, and recognized for high performance in 9 clinical specialties and procedures. Dartmouth-Hitchcock Health includes the Norris Cotton Cancer Center, one of only 51 NCI-designated Comprehensive Cancer Centers in the nation Children's Hospital at Dartmouth-Hitchcock, the state's only children's hospital; member hospitals in Lebanon, Keene, and New London, NH, and Windsor, VT, and Visiting Nurse and Hospice for Vermont and New Hampshire; and 24 Dartmouth-Hitchcock clinics that provide ambulatory services across New Hampshire and Vermont. The D-HH system trains nearly 400 residents and fellows annually, and performs world-class research, in partnership with the Geisel School of Medicine at Dartmouth and the White River Junction VA Medical Center in White River Junction, VT.
About the Geisel School of Medicine at Dartmouth
The Geisel School of Medicine at Dartmouth, founded in 1797, strives to improve the lives of the communities we serve through excellence in learning, discovery, and healing. The nation's fourth-oldest medical school, the Geisel School of Medicine has been home to many firsts in medical education, research and practice, including the discovery of the mechanism for how light resets biological clocks, creating the first multispecialty intensive care unit, the first comprehensive examination of U.S. health care cost variations (The Dartmouth Atlas), and the first Center for Health Care Delivery Science, which launched in 2010. As one of America's top medical schools, Dartmouth's Geisel School of Medicine is committed to training new generations of physician leaders who will help solve our most vexing challenges in health care.