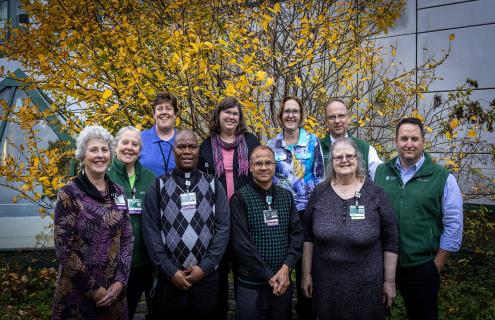 Many factors contribute to a person's overall health, including their physical condition, emotional state and social circumstances. But what about their spiritual well-being? Addressing spiritual wellness extends collaborative care to improve the whole health of an individual, and that is why the Chaplaincy Department at Dartmouth Hitchcock Medical Center (DHMC) changed its name to the Department of Spiritual Health.
The term "chaplaincy" traditionally refers to members of the clergy who provide spiritual guidance to sick or dying individuals and their families. Because it is historically associated with the Christian faith, people often assume that the work chaplains do is restricted to their religion. In fact, chaplains come from many faith communities and belief systems. They are specifically trained to serve in inter-faith and secular (not associated with religion) settings, such as healthcare institutions.
Because of this misunderstanding, chaplains began using the term "pastoral" care. "It shifted the focus away from who was providing the support to the act of the support," says Department of Spiritual Health Director Rev. Frank Macht, But the term "pastoral" still carried a religious association that could lead people to feel excluded if they didn't identify with a particular faith.
Here's what chaplains at DHMC are saying about the transition from the Chaplaincy Department to The Department of Spiritual Health.
"I serve families who are both connected—and not connected—to formal faith communities. Our visits concern questions of meaning, purpose, belonging and connection. This change reflects the move from an organized religious understanding of our work to a greater understanding of the human spirit." —Rev. Skye Murray, MDiv, BCC, Dartmouth Health Children's Hospital at DHMC
"Spiritual care is transitioning alongside medicine and healing. We recognize the need to be inclusive in the holistic healing of body, mind and spirit, to meet the health need of every person." — Rev. Fr. Joachim C. Adione MA, DMin, BCC, DHMC
"We are broadening the understanding and scope of our care. When I work with patients and their loved ones as they navigate a cancer diagnosis, we seek empowerment from the meaningful and important things in their lives. There is value in recognizing spiritual health as a part of our overall humanity." —Rev. Kris Bowen, MDiv, BCC, Dartmouth Cancer Center
The term "spiritual care," however, reflects the variety of services provided by chaplains who help people honor their faith tradition, spiritual practice, life philosophy and cultural values. "It's more inclusive," says Macht. "It focuses on caring for the human spirit beyond a traditional religion or philosophy. If your body or mind is failing, or you are dealing with loss, it can affect your spirit—your unique set of values and beliefs. We want to help you with that."
Chaplains will continue to provide specific faith-based services when requested, such as sacraments provided by a Catholic chaplain, meditation led by a Buddhist chaplain or the creation of a ritual specific to a family's preferences—with the help of any chaplain.
This change also addresses an ongoing evolution in the profession. Today, chaplains are providing evidence-based spiritual care in the healthcare environment. "As a discipline, we need to focus on the goals and outcomes of care. Chaplains are exploring research and case studies related to interventions to support patients during emotional distress and personal crises. We want to improve our understanding and develop more resources to improve spiritual health," says Macht.
"Applying this modern, research-based approach, just as you would for physical and mental health, improves outcomes for the people we serve. It's a collaborative effort that considers all aspects of a person's well-being," says Dartmouth Health System Vice President for Care Experience, Brant J. Oliver, PhD, MS, MPH.
Chaplains are also an important source of support for employees. During the pandemic, they expanded their "Tea for the Soul" program, visiting departments throughout the hospital with a cart full of tea and treats, offering opportunities for providers and staff to be heard. Their outreach earned them the 2021 DHMC and Dartmouth Hitchcock Clinics' Nursing Partnership Award.
The Department of Spiritual Health falls under the Office of Patient Experience. "We recognize that the patient experience does not exist separate from the employee experience. We want to take care of the employees who provide care to our community," says Oliver.
The change to "Department of Spiritual Health" aligns with Dartmouth Health's commitment to diversity, equity, inclusion and belonging, recognizing that "spiritual" has different meanings to different people.
"We want patients—and employees—to feel valued and respected, and we want them to feel like they belong. This transition lends itself toward that," says Dartmouth Health Vice President of Diversity, Equity, Inclusion and Belonging, Teresa Dean Malcolm, MD, "But it also recognizes the importance of the mind-body connection in our delivery of world-class care."
"Our chaplains play a critical role in helping the organization deliver on our mission and values," says Dartmouth Hitchcock Medical Center Chief Quality Officer Michael Calderwood, MD, MPH. "The World Health Organization defines four dimensions of wellness: physical, social, mental and spiritual. These dimensions of wellness are connected, and we must focus on each to improve the care experience and optimize outcomes."
"We're empowering and expanding the role of a chaplain, bringing them to a broader, more inclusive audience," adds Oliver.