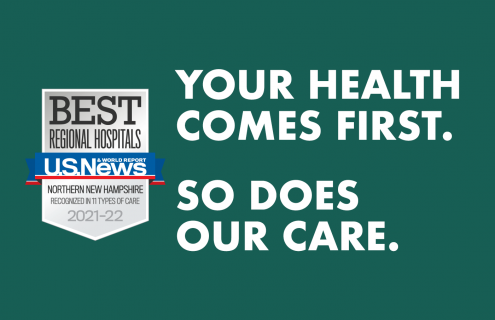 For the ninth year in a row, Dartmouth-Hitchcock Medical Center (DHMC) has been recognized by U.S. News & World Report as New Hampshire's Best Hospital in the Best Hospitals | U.S. News Hospital Rankings and Ratings | US News Best Hospitals 2021 rankings which were released this week.
"This recognition is especially heartening and poignant, as it comes on the heels of one of the most challenging times in our history as we battled the COVID-19 pandemic," said CEO and President of Dartmouth-Hitchcock Health Joanne M. Conroy, MD. "Through it all, every member of our staff has ensured that we continued to deliver world-class care to our patients and the communities we serve."
DHMC was also recognized as "high performing" in 11 clinical specialties and procedures, which include:
Abdominal aortic aneurysm repair
Aortic valve surgery
Chronic obstructive pulmonary disease (COPD)
Colon cancer surgery
Heart attack
Heart bypass surgery
Heart failure
Hip replacement
Kidney failure
Lung cancer surgery
Stroke
In addition to DHMC, Alice Peck Day Memorial Hospital, a Dartmouth-Hitchcock Health member, was recognized as "high performing" in Back Surgery (Spinal Fusion).
The annual Best Hospitals rankings and ratings, now in their 32nd year, are designed to assist patients and their doctors in making informed decisions about where to receive care for challenging health conditions or for common elective procedures. To compile the annual list, U.S. News & World Report evaluates hospital performance in 15 adult specialties, 10 pediatric specialties and 17 surgical procedures and medical conditions in more than 5,000 medical centers nationwide. The methodologies behind the rankings in most areas of care are based largely or entirely on objective measures such as risk-adjusted survival and readmission rates, volume, patient experience, patient safety and quality of nursing, among other care-related indicators.
About Dartmouth-Hitchcock Health
Dartmouth-Hitchcock Health (D-HH), New Hampshire's only academic health system and the state's largest private employer, serves a population of 1.9 million across northern New England. D-HH provides access to more than 2,000 providers in almost every area of medicine, delivering care at its flagship hospital, Dartmouth-Hitchcock Medical Center (DHMC) in Lebanon, NH. DHMC was named again in 2020 as the #1 hospital in New Hampshire by U.S. News & World Report, and recognized for high performance in 9 clinical specialties and procedures. Dartmouth-Hitchcock Health includes the Norris Cotton Cancer Center, one of only 51 NCI-designated Comprehensive Cancer Centers in the nation Children's Hospital at Dartmouth-Hitchcock, the state's only children's hospital; member hospitals in Lebanon, Keene, and New London, NH, and Windsor, VT, and Visiting Nurse and Hospice for Vermont and New Hampshire; and 24 Dartmouth-Hitchcock clinics that provide ambulatory services across New Hampshire and Vermont. The D-HH system trains nearly 400 residents and fellows annually, and performs world-class research, in partnership with the Geisel School of Medicine at Dartmouth and the White River Junction VA Medical Center in White River Junction, VT.