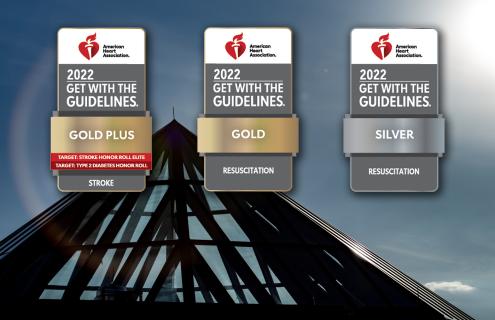 Dartmouth Hitchcock Medical Center (DHMC), a member of Dartmouth Health, has received four American Heart Association Get With The Guidelines® quality achievement awards for Resuscitation and Stroke for its commitment to treating in-hospital cardiac arrest and stroke, ultimately helping to improve survival rates.

The American Heart Association has granted the following Get With The Guidelines awards to DHMC for resuscitation:
Resuscitation Gold Adult Population

Resuscitation Gold Pediatric Population

Resuscitation Silver Neonate Population
Each year, more than 300,000 adults and children experience an in-hospital cardiac arrest, according to the American Heart Association. Survival from cardiac arrest largely depends on timely medical emergency team response and effective CPR. 

"DHMC is committed to improving patient care by adhering to the latest resuscitation guidelines," said Scott T. Slogic, director of Life Safety and Respiratory Care at DHMC. "Get With The Guidelines makes it easier for our teams to put proven knowledge and guidelines to work on a daily basis, which studies show can help more patients who have cardiac arrest survive. The end goal is to ensure more people in our region can experience longer, healthier lives." 
For stroke, DHMC received the Stroke Gold Plus with Target: Stroke Honor Roll Elite. Stroke is the No. 5 cause of death and a leading cause of disability in the United States. A stroke occurs when a blood vessel that carries oxygen and nutrients to the brain is either blocked by a clot or bursts. Early stroke detection and treatment are key to improving survival, minimizing disability and accelerating recovery times.
DHMC also received the American Heart Association's Target: Stroke Honor Roll Elite and Target: Type 2 Honor Roll awards. To qualify for Target: Stroke Honor Roll Elite, hospitals must meet specific criteria that reduce the time between a patient's arrival at the hospital and treatment with the clot-busting drug alteplase. Target: Type 2 diabetes aims to ensure patients with type 2 diabetes, who might be at higher risk for complications, receive the most up-to-date, evidence-based care when hospitalized due to stroke.
"Because of our commitment to excellence and continual improvement in stroke care, DHMC has once again been recognized by Get With The Guidelines to consistently provide the highest quality and most up-to-date treatments to our region," said Timothy G. Lukovits, MD, medical director of the Cerebrovascular Disease and Stroke Program at DHMC, and Shawna S. Malynowski, BSN, RN, MBA, manager of the Stroke Program at DHMC, in a joint statement. "It is through diligence, dedication and teamwork that we are able to monitor, recognize and improve systems of care allowing us to continually evolve and be the center of choice for stroke care."
Get With The Guidelines puts the expertise of the American Heart Association to work for hospitals nationwide, helping ensure the care provided to patients is aligned with the latest evidence- and research-based guidelines.
"We are pleased to recognize DHMC for its commitment in following these guidelines," said Tia Raymond, MD, national chairperson of the American Heart Association's Resuscitation Systems of Care Advisory Group and a pediatric cardiac intensivist at Medical City Children's Hospital in Dallas, and Steven Messe, MD, chairperson of the Stroke System of Care Advisory Group, in a joint statement. "Hospitals that participate in Get With The Guidelines often see improved patient outcomes and improved survival rates—a win for health care systems, families and communities."
About Dartmouth Health
Dartmouth Health, New Hampshire's only academic health system and the state's largest private employer, serves patients across northern New England. Dartmouth Health provides access to more than 2,000 providers in almost every area of medicine, delivering care at its flagship hospital, Dartmouth Hitchcock Medical Center (DHMC) in Lebanon, NH, as well as across its wide network of hospitals, clinics and care facilities. DHMC is consistently named the #1 hospital in New Hampshire by U.S. News & World Report, and recognized for high performance in numerous clinical specialties and procedures. Dartmouth Health includes Dartmouth Cancer Center, one of only 54 National Cancer Institute-designated Comprehensive Cancer Centers in the nation, and the only such center in northern New England; Dartmouth Health Children's, which includes Children's Hospital at Dartmouth Hitchcock Medical Center, the state's only children's hospital, and multiple clinic locations around the region; member hospitals in Lebanon, Keene and New London, NH, and Bennington and Windsor, VT; Visiting Nurse and Hospice for Vermont and New Hampshire; and more than 24 clinics that provide ambulatory services across New Hampshire and Vermont. Through its historical partnership with Dartmouth and the Geisel School of Medicine, Dartmouth Health trains nearly 400 medical residents and fellows annually, and performs cutting-edge research and clinical trials recognized across the globe with Geisel and the White River Junction VA Medical Center in White River Junction, VT. Dartmouth Health and its more than 13,000 employees are deeply committed to serving the healthcare needs of everyone in our communities, and to providing each of our patients with exceptional, personal care.