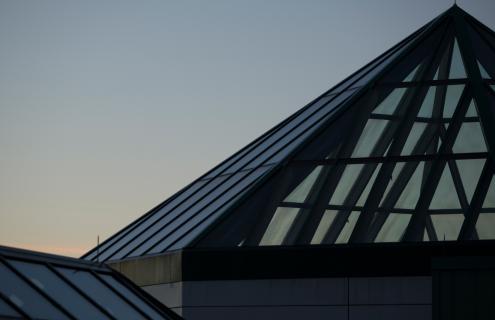 We are thrilled to partner with PCORI and a robust group of investigators across the country to focus on effectiveness and acceptability of bladder Botox treatment for women ages 70 and older.
Anne C. Cooper, MD, MA
A research team at Dartmouth Hitchcock Medical Center (DHMC), the flagship academic medical center of Dartmouth Health, has been approved for a $6.6 million funding award by the Patient-Centered Outcomes Research Institute (PCORI) to study treatment of urinary urgency incontinence, a common, bothersome condition of losing control of urine, associated with a feeling of urgency among older women. The study, "Reduced-dose onabotulinumtoxinA for urgency Incontinence among Elder Females (RELIEF): A mixed methods randomized controlled trial," is headed by Anne C. Cooper, MD, MA, a urogynecologist at DHMC, and E. Ann Gormley, MD, a urologist at DHMC.
Urgency incontinence is associated with shame, discomfort, falls, expense, nursing home admission and even increased risk of death. There are several effective treatments, but most of them are not well suited to for use among older women. However, treatment with onabotulinumtoxinA, better known by its brand name Botox©, shows promise as a treatment for older women.
"Overactive bladder is very common in older women and is historically treated in a step-wise fashion: behavioral therapy, pharmacologic treatment and then procedural treatments," Gormley said. "Many older women can't or won't do behavioral therapy or take the drugs. Botox injection into the bladder muscle is a well-tolerated office procedure but has been used cautiously in older women due to a theoretical risk of difficulties with bladder emptying post procedure. The RELIEF study, which will randomize patients to the standard dose and a lower dose, will allow us to evaluate the outcomes of the two doses. The study will also allow us to better characterize multiple aspects of the patients' symptoms and the impact that incontinence and its treatment has on their lives."
"Many older women with urgency incontinence suffer in silence, partially due to having fewer treatment options and less targeted research," Cooper said. "We are thrilled to partner with PCORI and a robust group of investigators across the country to focus on effectiveness and acceptability of bladder Botox treatment for women ages 70 and older. We already know that this treatment works well for younger women, and anticipate that it can be tailored to the needs of older women as well."
Cooper and Gormley's study was selected for funding through a PCORI funding announcement specifically focused on comparing the effectiveness of nonsurgical treatment options for urinary incontinence for non-pregnant women.
"This study was selected for PCORI funding for its potential to fill an important gap in our understanding of how best to treat a health condition common among women," said PCORI Executive Director Nakela L. Cook, MD, MPH. "Although the efficacy of many nonsurgical interventions for urinary incontinence are soundly substantiated, evidence gaps remain, particularly related to direct comparisons of the options. We look forward to following the study's progress and working with DHMC and the other study sites to share the results." 
Cooper and Gormley's award has been approved pending completion of a business and programmatic review by PCORI staff and issuance of a formal award contract.
PCORI is an independent, nonprofit organization authorized by Congress in 2010. Its mission is to fund research that will provide patients, their caregivers, and clinicians with the evidence-based information needed to make better-informed healthcare decisions. For more information about PCORI's funding, visit www.pcori.org.  
About Dartmouth Health
Dartmouth Health, New Hampshire's only academic health system and the state's largest private employer, serves patients across northern New England. Dartmouth Health provides access to more than 2,000 providers in almost every area of medicine, delivering care at its flagship hospital, Dartmouth Hitchcock Medical Center (DHMC) in Lebanon, NH, as well as across its wide network of hospitals, clinics and care facilities. DHMC is consistently named the #1 hospital in New Hampshire by U.S. News & World Report, and recognized for high performance in numerous clinical specialties and procedures. Dartmouth Health includes Dartmouth Cancer Center, one of only 54 National Cancer Institute-designated Comprehensive Cancer Centers in the nation, and the only such center in northern New England; Dartmouth Health Children's, which includes Children's Hospital at Dartmouth Hitchcock Medical Center, the state's only children's hospital, and multiple clinic locations around the region; member hospitals in Lebanon, Keene and New London, NH, and Bennington and Windsor, VT; Visiting Nurse and Hospice for Vermont and New Hampshire; and more than 24 clinics that provide ambulatory services across New Hampshire and Vermont. Through its historical partnership with Dartmouth and the Geisel School of Medicine, Dartmouth Health trains nearly 400 medical residents and fellows annually, and performs cutting-edge research and clinical trials recognized across the globe with Geisel and the White River Junction VA Medical Center in White River Junction, VT. Dartmouth Health and its more than 13,000 employees are deeply committed to serving the healthcare needs of everyone in our communities, and to providing each of our patients with exceptional, personal care.