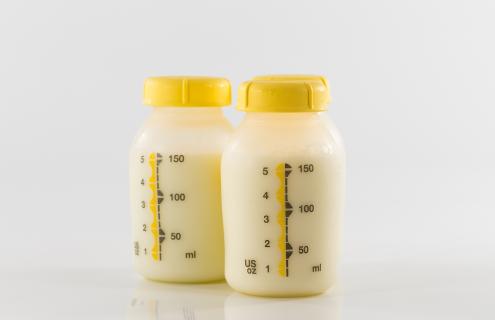 The Women's Health Resource Center (WHRC) provides pasteurized donor human milk for babies and raises awareness about some new mothers' challenges in producing a reliable milk supply. Access to donor milk is available to anyone—whether a Dartmouth-Hitchcock patient or not—with a prescription from a lactation consultant, OB/GYN, or pediatrician. The amount of milk dispensed to each recipient depends on the written prescription. Financial assistance is also available for qualifying families.
When the Milk Bank/Depot opened in September of 2020, the WHRC averaged 150 bottles of donor milk. Today, the number has dropped to 50, resulting in limits to the number of bottles a family can receive and, in some cases, turning families away.
Milk donations accepted from approved donors at the WHRC are sent to Mothers' Milk Bank Northeast in Newton Upper Falls, Massachusetts, where they pasteurize donor milk from locations throughout the Northeast Region. Quality assurance and testing ensure that the milk is safe before shipping it back to the WHRC to dispense. To cover the cost of pasteurizing and processing the milk, Mother's Milk Bank Northeast processes individual prescription payments.
Mothers interested in donating milk can contact the WHRC, which will arrange for free testing. This includes a phone screening, application and blood test by the Mother's Milk Bank Northeast. For more information, contact the WHRC at 603-650-2600 or whrc@hitchcock.org.
Learn more about the Milk Bank/Depot.