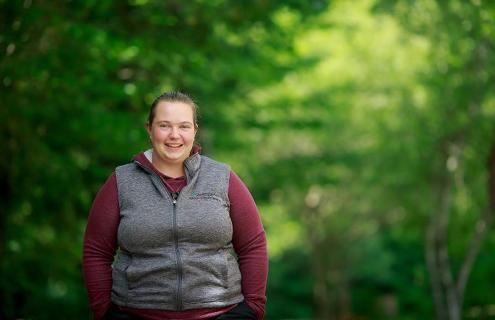 Kelsy S. Jenkins began her career at Dartmouth Hitchcock Medical Center (DHMC) as a perioperative support technician (PST) in 2019 after hearing about the position at DHMC and Dartmouth Hitchcock Clinics' job fair in 2018. As a veterinary technician, she was interested in becoming a certified surgical technologist (CST).
Jenkins welcomed the opportunity to work as a PST so that she could observe and get to know her way around the operating room setting. While a PST she completed her core classes necessary to start the intensive 11-month Surgical Technology Program training program to complete her associate's degree through a partnership between Dartmouth Health Workforce Readiness Institute and Colby-Sawyer College. During the program, Kelsy transitioned from a PST to a surgical tech trainee.
The first to be accepted into—and earn—an associate's degree in heath science and a certificate in surgical technology through this partnership program, Jenkins spent the first part of the program completing her general education credits and required science courses. Once those were completed, she began working on CST certification through the WRI. As part of the training, she spends several days a week in hands-on clinical rotations training in the operating rooms at DHMC, the Outpatient Surgery Center and at other Dartmouth Health locations like Alice Peck Day, Cheshire Medical Center and New London Hospital. The rest of her time is spent in the classroom.   
Jenkins will receive her degree once she completes the remainder of her clinical hours and classes. She will graduate on August 25, 2022. 
What are some of the main responsibilities of your role?
To create and maintain the sterile field for surgical procedures. We gown up then gather and prepare the equipment and supplies needed for surgical cases. We have preference cards from the surgeons that tell us what the needs for procedure are, so we can set up the area accordingly. For instance, they might need a specific bed or specific instrument set. Once the surgery begins, we assist the surgeon with instrumentation, help complete the procedure, and clean up the room when finished.
What is the difference between a PST and a CST?
A PST is responsible for getting the room ready and turning it over when we're done—preparing and cleaning the rooms, changing linens and replenishing basic supplies. A CST assists more during the surgery, including preparing and keeping the field sterile for the surgeon.
What do you like most about your job?
Helping patients. I also like the flexibility, I'm interested in working in different service, and willing to learn and perform whatever tasks are needed.
What are your future goals?
I want to get the knowledge and experience to teach students going through the program and help them learn their roles.
What was the best part of going through this program?
It was helpful that I already knew most of the operating room staff when I started the program, and they supported me. They knew my background and helped me when I needed it. It was a godsend.
Find out more about trainings available through the Workforce Readiness Institute.