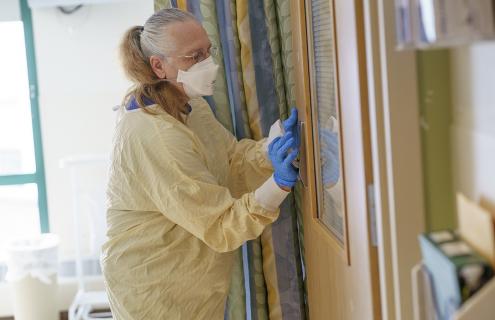 Our EVS team members are essential partners in our work to deliver safe, high-quality care to our patients and families. Their work is one of our most important frontline defenses against the spread of infection in our facilities.
Chief Nursing Officer Karen F. Clements, RN, FACHE
As New Hampshire's largest hospital and only academic medical center, Dartmouth-Hitchcock Medical Center (DHMC) treats the most acutely ill patients in our region. The D-H Lebanon campus—which also includes the outpatient clinics at Heater Road and Lyme as well as the Jack Byrne Center for Palliative & Hospice Care provides health care services to nearly 2 million patients each year.
Have you ever stopped to consider, as you walk the halls of D-H facilities that care is provided in multiple locations across 2,000,000 square feet of hospital and clinic space? Every inch of our facilities is properly cleaned, disinfected and maintained to ensure a safe environment in which to work and provide care. Never has that work been more critical than during the COVID-19 pandemic.
David F. Duncan, vice president, Facilities Management and Enterprise Support Services, and Zachary J. Conaway, director, Environmental and Waste Management Services, and their team oversee a complex physical infrastructure employing more than 165 dedicated Environmental Services (EVS) team members who are a vital part of our patient care teams. 
In March 2021, to improve patient safety, visitor experience and the work environment of our D-H staff, EVS leadership engaged the outside consulting firm of Fraine Consulting to lead a process improvement project. The firm partnered with EVS staff to evaluate processes and procedures and to identify the tools necessary to improve safety, quality and productivity. Everything was thoroughly reviewed, from the way new EVS team members are on-boarded to the disposable mops used to clean the floors throughout our facilities. As a result, these improvements were implemented:
A new eight-step cleaning and disinfection process, which introduced two new cleaning compounds that kill bacteria and viruses, including COVID-19 and C. difficile. Both are safer to use than hospital-grade bleach and other compounds.
An upgrade to CompuClean, the mobile tracking system that allows EVS leaders to monitor and confirm the quality of work in real-time. 
Increased visual inspections, testing for microorganisms and bacteria and expanded fluorescent marking inspections using more rigorous black light inspection technology.
The EVS team has embraced these process changes as part of the department's commitment to ongoing education, continuous improvement and working together to maintain a safe environment for patients and employees.
"I'm proud of the process improvement work the EVS team has done, but I'm even more proud of the way they've come together to support each other in managing the changing conditions and increased workload brought on by the COVID-19 pandemic," says Conaway. "Everyone on the team stepped up whenever and wherever they were needed."
A spirit of teamwork
That spirit of teamwork and collaboration is evident across the entire EVS department. Team member Ralph Lapsley, Sr., who works primarily in the laboratory spaces, and Abraham E. Okojie, who works in Same-Day Surgery, embody that spirit by mentoring new staff and learning new skills through cross-training in different areas. Part-time employee Heather Blake covers many different areas, including Pharmacy and the Emergency Department, pitching in wherever she is needed. They are just a few examples of how this tight-knit team works together to get the job done.
The team includes people of all ages and backgrounds from many different countries, including Turkey, Jamaica and Thailand. For many, English is not their native language, but that isn't a barrier for this group. What they share is a common desire to help others—patients, visitors and fellow employees alike—and a commitment to supporting our clinical staff by providing a safe, clean environment for patient care.
Many times the work goes beyond cleaning inpatient rooms or vacuuming public areas. It's not uncommon for EVS employees to offer a kind word or reassuring smile to an anxious patient, provide directions to visitors or offer the comfort of an extra blanket or pillow. 
"Our EVS team members are essential partners in our work to deliver safe, high-quality care to our patients and families. Their work is one of our most important frontline defenses against the spread of infection in our facilities. Over the past 19 months in particular, our EVS team has been extraordinary, and I'd like to bump elbows with each one of them to thank them for their efforts. I appreciate their positive attitude, demonstrated by the warm smiles and caring interactions they have with our patients, families and staff," says Chief Nursing Officer Karen F. Clements, RN, FACHE. 
For Wanna Petchdee, an EVS team member who joined during the COVID-19 pandemic with no previous health care experience, the department offers a welcoming environment where co-workers are happy to show new hires the ropes, and it's possible to learn on the job through ongoing support and training. "Everyone is so helpful and kind to me," she says.
According to Nannaphat "Nana" Latchaw, an eight-year veteran of the EVS team, "We want to make our patients feel safe, and their families feel comfortable. It's easy to ask, "'Is there anything else I can do for you?'"
Likewise, for Traci Clay, who has been the primary EVS technician serving the Jack Byrne Center since its opening in 2017, it's much more than the process of cleaning and disinfection; it's about creating an environment of comfort and peace. "It's an honor to be a part of making this beautiful building available to patients and families when they need it most."
As health care organizations across the country celebrate National Healthcare Environmental Services and Housekeeping Week, September 12-18, we thank the Dartmouth-Hitchcock Environmental Services team for their hard work and dedication. Your efforts contribute to making D-H the best place in our region to work and receive care.