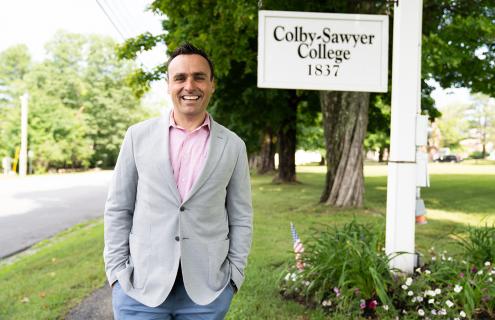 Our nursing and health science students are working and learning at a world-class, academic medical center that allows opportunities for students far beyond the cutting-edge research that's happening there.
Kevin Finn, EdD, ATC, CSCS, FACSM
In January 2020, Dartmouth-Hitchcock Health (D-HH) and Colby-Sawyer College announced an expansion of its longstanding partnership aimed at supporting critical workforce pipelines across the D-HH system and elevating learning and career opportunities for Colby-Sawyer students. This 40-plus-year relationship began when hospital leaders encouraged the college to establish a nursing program after the diploma-nursing program at Mary Hitchcock Memorial Hospital closed in 1980.
"Even then, the leaders of Dartmouth-Hitchcock knew that a high-quality nursing program in the area would be vital to support the growing workforce needs of the medical center," says Susan A. Reeves, EdD, RN, executive vice president, Dartmouth-Hitchcock Medical Center and chief nursing executive D-HH. Reeves also served as dean and professor in the School of Nursing & Health Professions at Colby Sawyer from 2007 to 2017.
Over the past six months, there has been exciting momentum around this partnership, including the appointment of Kevin E. Finn, EdD, ATC, CSCS, FACSM, as the new dean and director of clinical partnerships for the School of Nursing & Health Sciences at Colby-Sawyer. Finn has worked closely with Colby-Sawyer and D-HH in the establishment of new programs that support essential needs in the health care workforce, such as medical laboratory science, social work, addiction studies and health care administration.
"This partnership reaches across the spectrum of health sciences," Finn says. "We're having conversations to understand what the D-HH workforce needs are and how Colby-Sawyer can develop innovative academic programs to meet those needs."
The new and expanded academic programs were developed and designed out of the needs of the D-HH workforce and community, as the demand for nurses and other health care workers continues to grow. Through this expanded partnership, both D-HH and Colby-Sawyer are also able to support students, whether they are traditional undergraduates looking for experience in the field or working professionals who want to further their education. These programs are designed to provide opportunities for both.
"Today's partnership extends far beyond the nursing program, and is a simply a logical extension of this good workforce development idea hatched years ago," says Reeves.
New degree programs for working professionals
"The partnership and educational opportunities we offer at Colby-Sawyer are a pathway, no matter where an individual is in their career," Finn says. "We've specifically designed a number of new programs to make sure the curriculum is aligned in a way that is flexible and affordable for the working individual."
One of these new programs is an associate degree in health sciences. This is a pathway uniquely available to employees at D-HH, particularly students trained through the D-H Workforce Readiness Institute. D-H Workforce Readiness programs are connected directly to Colby-Sawyer College credits, and students can work toward degree completion.
Similarly, new bachelor-completion "bridge" programs have been developed for registered nurses and registered respiratory therapists to take their training at the associate level and earn a Bachelor of Science in Nursing degree or Bachelor of Science in Respiratory Therapy degree. These programs were designed for employees already in the workforce who want to expand their training and education. To encourage participation, these programs are completed online and designed to fit into an adult's work schedule.
Two new tracks for a Master of Science in Nursing degree have also been added—nursing management & executive leadership and nursing education. Beginning this fall, Colby-Sawyer will offer a bachelor's degree program in five new disciplines: addiction studies, healthcare administration, health science, medical laboratory science and social work.
Many classes are online and run on eight-week sessions rather than the traditional 16-week semester, helping students to advance in a shorter amount of time or complete at their own preferred pace, as time and finances allow.
The programs are also affordable. Through the enhanced partnership, Colby-Sawyer is able to create competitive price agreements with D-HH, which allows employees to make the most of the tuition assistance and other scholarship opportunities that are available through D-HH or Colby-Sawyer.
New director of professional learning
Making these opportunities easier to navigate is the Director of Professional Learning Jennifer Holl, MSN, RN, who began in July. Holl will be an employee of Colby-Sawyer but will be based at Dartmouth-Hitchcock Medical Center (DHMC) three days per week to provide easy access for D-HH employees. She will be familiar with curriculum requirements and can help navigate enrollment. She will also understand financial opportunities, including D-HH's academic funding, financial aid, tuition assistance and available scholarships. Holl will work with students individually to make a plan to achieve their academic and career goals. To schedule an academic counselling session please email jennifer.r.holl@colby-sawyer.edu.
Assistance available to all
Assistance will be available to any D-HH employee interested in Colby-Sawyer programs—whether they are a new graduate of a D-H Workforce Readiness Program interested in completing their associate degree, or a registered nurse interested in going back to school to attain a bachelor's degree. The director of professional learning will also be able to assist with the growing number of health science programs, such as the new respiratory therapist program or the Bachelor of Science in Medical Laboratory Science, or even Bachelor of Science degrees in Addiction Studies or Social Work.
What makes the Colby-Sawyer partnership unique?
There are colleges with similar clinical or nursing programs and similar bridge-style programs, but at Colby-Sawyer, there are nursing and health science faculty who are also employees of D-H. Also, students can take advantage of internships at D-HH, and after finishing their academic program, many have the opportunity to become D-HH employees. This collaboration creates a strong network of experience — both academically and in the workforce.
"Our nursing and health science students are working and learning at a world-class, academic medical center that allows opportunities for students far beyond the cutting-edge research that's happening there," Finn says. "It's exciting to think about all the areas and opportunities that I believe will develop further from this partnership."