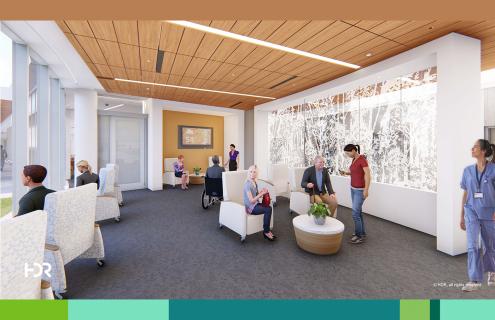 Sometimes, bigger is better. That's the case with the new Discharge Lounge that is set to open in Dartmouth Health's new Patient Pavilion in Dartmouth Hitchcock Medical Center (DHMC) in May 2023. The large, bright and airy space will accommodate up to 15 patients, tripling the capacity of the current Discharge Lounge. "Plus, the new Discharge Lounge will be right on the first floor with a view of the entrance, so it will be easier for friends and family members—they won't have to find a place to park and come in," says Heidi Petrin, supervisor of the mobility techs who staff the lounge. "We can bring the discharged patient right to them. And when the weather is nice, discharged patients can go outside to get fresh air and sit on one of the benches."
"It's a beautiful space, full of windows, that will be completely focused on discharged patients' needs," adds Michelle Buck, vice president for inpatient nursing.
Similar to the current lounge, which is located by the East Entrance, the larger space in the Pavilion will offer iPads, wi-fi and plenty of places to plug in laptops. And as an upgrade from today's lounge, "we will have a whole room dedicated to nutrition, with a refrigerator, freezer and microwave," says Petrin.
Easing patient-flow bottlenecks
Dartmouth Health opened a Discharge Lounge at DHMC in 2021 to ease persistent patient bottlenecks in the Emergency Department, PACU (where patients go following surgery) and transfers from member hospitals. It was designed to be a comfortable area where discharged patients can wait for rides home, and where coffee and snacks, iPads, wi-fi and food vouchers are available. "When their friend or family member shows up, we bring patients out to the car, load their bags and send them on their way. It's a nice way to end their stay with us," says Petrin. "We're also on hand to help troubleshoot if they've called a taxi and it goes to the wrong entrance or if their loved one ends up in the wrong place."
Launching a Discharge Lounge was a strategic, data-driven decision, explains Buck. "We recognized that we had discharged patients—those who no longer need inpatient care—who were waiting in inpatient spaces for rides home," she says. "And because we're in a rural area, we know many of our patients live some distance from the hospital. Sometimes discharged patients have to wait several hours for their loved ones to come after work. The Discharge Lounge provides a comfortable place for them to wait that has all the amenities," Buck continues. "And it allows newly vacated patient rooms to be turned over quickly for patients who are waiting and require an inpatient bed."
Increasing capacity
In addition to an expanded Discharge Lounge, the new Pavilion will also expand DHMC's inpatient capacity with 64 state-of-the-art single-patient rooms. That is welcome news for the 300+ patients turned away from DHMC monthly because of lack of space.  "Every day, when we make the decision to admit or transfer a patient, we have to look at both capabilities and capacity throughout the system," explains Jess Ryan, director of Dartmouth Health's Capacity Coordination Center, which manages the complex flow of patients in and out of the system's five-member hospitals. "We generally have the capability—meaning we have the service line a patient requires. The issue is capacity. We're typically at 110 percent capacity at all times."
While more beds will make it easier to accommodate more patients, Ryan notes that it won't eliminate capacity issues altogether. "Because the demand for patient beds so exceeds the supply, more beds won't eclipse the demand. Bigger is good, but we also have to think about how to work smarter."
That's where the expanded Discharge Lounge comes in. It's another example of Dartmouth Health providing world-class care with the community at the center. To Buck, it's part of a simple equation. "The Discharge Lounge and Patient Pavilion are going to help DHMC increase our patient flow, which means we can serve more of our neighbors. It's one more way Dartmouth Health is innovating to serve our patients and our community."