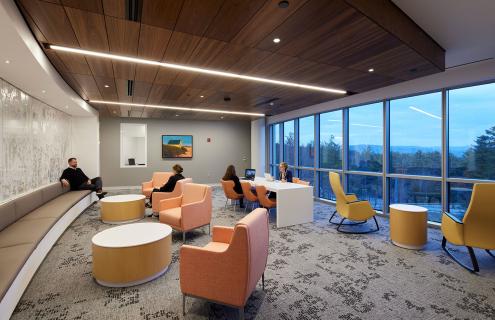 Access to specialty and subspecialty care in the Upper Valley just took a giant step forward with the opening of the new Patient Pavilion at Dartmouth Hitchcock Medical Center (DHMC). The 240,000-square-foot expansion is adding 64 patient beds, increasing Dartmouth Health's ability to care for the region's most seriously ill patients.
"In 2018, when our Trustees approved funding for the project, DHMC was forced to turn away as many 350 patients each month: patients who desperately needed the specialty and subspecialty care we provide," says Dartmouth Health President and CEO Joanne Conroy, MD. "The opening of the Patient Pavilion fulfills our commitment to providing the best care, as close to home as possible, for every patient seeking care at DHMC."
Increased cardiac care, new MSCU Unit
Cardiac care capacity will increase by 25% with 48 of the new beds in a larger Heart and Vascular unit. David Min, MD, director of clinical cardiology at Dartmouth Health, explains that this addition is vital in meeting the needs of Northern New England's aging population. "Heart and vascular issues increase with age," he says. "The Patient Pavilion will help us meet demand. It's a state-of-the-art space, incorporating cutting-edge technologies that will allow us to diagnose and treat patients faster."
Medically complex patients—those needing level of care in between floor-level and critical care—will benefit from a brand-new department, the Medical Specialty Care Unit (MSCU). The 16 MSCU beds, also called stepdown beds, "are an in-demand resource in our system," according to hospitalist Rich Saunders, MD. "More stepdown beds will improve our ability to care for patients who need a higher level of care and free up our ability to care for the region's sickest patients who need to be in our critical care units."
Discharge Lounge and room to grow
Discharged patients waiting for rides home will find a comfortable place just for them on the Pavilion's first floor, the Discharge Lounge. The bright and airy space offers a view of the entrance—so it's easier for family and friends—along with iPads, internet access, and snacks and meals. In addition to convenience for discharged patients, Michelle Buck, vice president for inpatient nursing, notes that the Discharge Lounge also helps patients waiting to be admitted. "By moving waiting discharged patients from inpatient spaces, it allows patient rooms to be turned over more quickly so that we can serve more of our neighbors," Buck says.
And when patient demand grows in the years ahead—as it's predicted to do with the region's graying population—the Pavilion ensures DHMC will be ready. The addition includes two unfinished floors that will provide ready space to expand.
Improved experience for patients and loved ones
Patients and loved ones will find a lot to love in the Pavilion. All of the patient rooms are private, spacious and offer technology like MyChart Bedside, which allows patients to interact with their provider teams right at their fingertips. Each room also has remote video capabilities that can enable a virtual consult with a specialist or let the patient and care team meet with out-of-town family.
Loved ones can stay overnight right in patients' rooms, thanks to pull-out couches. Private showers and changing areas on the first floor will give them space to attend to their personal needs—a vital resource in our region where patients often travel two or more hours to seek care.
"All of these resources support DHMC in providing world-class care to our neighbors and friends," says Brant Oliver, system vice president for care experience and an associate professor at the Geisel School of Medicine. "Patients have many choices for care. What the Pavilion does is position Dartmouth Health to be competitive for an optimal care experience and also a patient-centered experience."