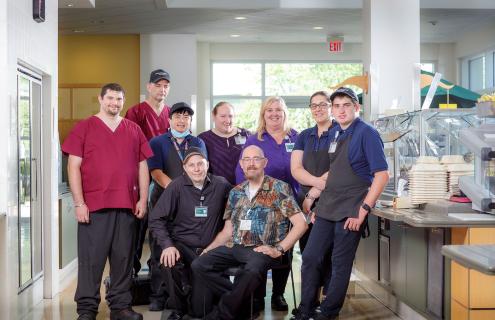 With menu items like the tremendously popular grilled salmon, turkey dinner and homemade macaroni and cheese, Food and Nutrition Services is greatly appreciated by thousands of patients, families and employees at Dartmouth Hitchcock Medical Center (DHMC)  in Lebanon, New Hampshire. The department has even been featured in a local magazine for its well-priced and great tasting menu choices. But there's more to Food and Nutrition Services than delicious food and outstanding customer service. It is an excellent example of DHMC's commitment to creating opportunities for individuals with disabilities to obtain competitive and meaningful employment, as part of our inclusive hiring practices and community partnerships to become a more diverse workplace. 
After a colleague from PathWays of the River Valley secretly nominated her, Elaine Churchill, assistant direct of Food and Nutrition Services, returned from vacation this summer to learn she had won an Employment Leadership Award from the New Hampshire Employment Leadership Committee. Now in its thirteenth year, the Employment Leadership Awards are presented annually to 5 New Hampshire businesses that demonstrate their commitment to recognizing the skills and contributions people with disabilities bring to the workforce.
Food and Nutrition Services is regularly involved in Project SEARCH, an intensive, nine-month workplace training program at DHMC that helps young Upper Valley residents with intellectual or developmental disabilities learn job and life skills under the guidance of educators, supervisors, clinicians and technicians in departments throughout DHMC. Graduates of the program have worked in more than 27 different departments.
Elaine is responsible for supervising employees, both with and without disabilities, and is a key ingredient in the team's success. "It's rewarding to listen to employees to understand their strengths and interests and give them the support they need to be successful. It's very rewarding to watch them grow. It makes you feel good," says Elaine.
As a department, Food and Nutrition Services' responsibilities begin with making and delivering three meals a day for nearly 400 hospitalized patients, every day of the year. They operate the hospital's main dining room and the East Mall Café to serve a combined total of approximately 2,500 customers a day. Preparing meals and restocking the recently added technology enabled "Micro Mart" for employees working nights or weekends, adds an additional 150 daily customers to their impressive total. "We're a very close-knit team and we like to get work done," says Elaine. "We're very dedicated to serving our community, in multiple ways."
In celebration of her award, Elaine and members of her team will be featured in the September 2022 edition of Business NH Magazine and will be honored at a gala event in October.
Project SEARCH is a collaborative effort between DHMC, the Hartford (VT) School District, Lincoln Street Inc., New Hampshire Vocational Rehabilitation and Vermont Vocational Rehabilitation.
Coming soon! Main Dining room open on weekends
Starting on October 1, the Main Dining Room located on Level 2 of DHMC will be open from 7 am to 2 pm on Saturdays and Sundays, in addition to its regular weekday hours, 6:30 am to 7:00 pm, Monday through Friday.