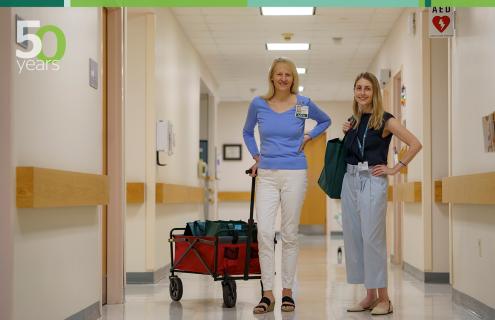 For cancer patients who undergo chemotherapy, radiation or a transplant, healthy food is part of their treatment. It's medicine.
Chelsey R. Canavan, MSPH
Sidelined from work by cancer and chemotherapy, Lonnie Rutledge was facing some tough financial decisions. "I hadn't been able to work for months, and things were dire," says Lonnie Rutledge, a patient at Dartmouth Hitchcock Medical Center. "We were going to have to decide which bills to pay. When we found out about The Cancer Center Food Pantry, it was a godsend."
Rutledge is one of 69 patients who have received food pantry deliveries since it opened in February 2022. Each of the 180 deliveries (or 430 grocery bags) includes enough healthy food to feed a patient and their family for a week.
Continuing Care Manager Catherine M. Reed, MSW, had the idea for the food pantry after noticing how many patients were in need. She recalls asking a stem cell transplant patient, 'What have you had to eat today?" and found out she didn't have enough food. "I started asking other cancer patients if they had healthy food they could eat and found an epidemic of food insecurity."
"We're really focusing on nutrition security," says Community Health Partnership Coordinator Chelsey R. Canavan, MSPH. "Our screening shows that 10 to 11% of patients don't have the healthy food they need for their health and well-being. For cancer patients who undergo chemotherapy, radiation or a transplant, healthy food is part of their treatment. It's medicine."
Any number of obstacles come between a cancer patient and healthy food. "Cancer treatment is exhausting," says Reed. "When patients are done with appointments, they're often too tired to go to a grocery store or a food pantry in their community. They want to go home. High fuel prices might limit patients to only hospital visits. Inflated food prices often keep patients from buying fresh fruits and vegetables. And, like Lonnie, many patients lose their paycheck during treatment."
The pantry is stocked through a partnership with The Upper Valley Haven in White River Junction, Vermont. "The Haven is a wonderful partner with a lot of pantry expertise," says Canavan. "Every week, they deliver healthy shelf-stable food, fresh and organic produce and dairy and non-dairy products to our pantry."
Located in a former copy room in the Cancer Center, the food pantry has just enough space for Reed to pre-package deliveries for waiting patients. "Foods a cancer patient can eat vary week to week, so all deliveries are custom," says Reed. "I take orders in person when a patient is here for a visit or over the phone. Then I package the order, put it in my red wagon and bring it right to the patient's car."
Now serving 3 of 10 cancer patient groups—Hematology/Oncology, Stem Cell Transplant and Gastrointestinal Oncology—Reed and Canavan are looking for funds to expand the food pantry's reach. "If we were serving all Dartmouth Cancer Center patients with food and nutrition needs, we would deliver food to 1,000 patients and their families," says Reed.
"I don't know what we would have done without the fresh and organic food from the food pantry," says Rutledge. "We certainly wouldn't have eaten as well."