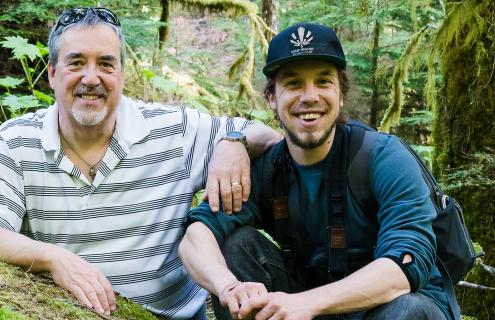 Thirty-three years after Kevin Perron was taken care of as an infant at Mary Hitchcock Memorial Hospital (MHMH), (now Dartmouth-Hitchcock Medical Center - DHMC), he found a way to give back to the medical community who helped save his life.
In January of 1987, Tom Perron and his wife Kelley took six-month-old Kevin to their family pediatrician after Kevin became very ill overnight, spiking a high fever. The doctor quickly recognized the signs of spinal meningitis and sent Kevin and his family to MHMH where he spent the next 10 days. "In the first few days it was a 50/50 chance whether Kevin would survive," remembers Tom.  
Kevin, now a successful businessman, is the owner of Treefort Lifestyles, an outdoors-inspired gear company that makes travel and sporting accessories. Shortly before COVID-19 hit the United States, Kevin began looking into the prospect of Treefort Lifestyles making their own rugged version of a cloth mask. After sewing a prototype and wearing it into a local grocery market, the store manager offered to purchase enough masks from Kevin to give to his employees. It was then that Kevin knew it was time to act on his plans to manufacture masks in addition to his other products.
Kevin knew that it would be hard to keep up with the demands of sewing his own masks, likely being able to sew only 10, maybe 20 a day. As the demand for masks skyrocketed, he reached out to a manufacturing partner to see whether they could assist with making his masks. Initially Kevin's plan was to take 250 of the first 1,000 masks and donate them to a health care facility. But he soon realized that most hospitals were in need of medical grade masks, not cloth masks. So while working his manufacturers, he asked his contacts if they knew where he might be able to purchase a large quantity of medical masks, and he was in luck. One of the manufacturing companies had its own supply of masks, and was willing to sell some of them to Kevin. So instead of donating 25 percent of his cloth masks, Kevin took 25 percent of his manufacturing budget and purchased the medical grade masks to donate.
When it came time to decide where the donations would go, the decision was easy. Not only had DHMC played a pivotal role in his health, his father, Tom works at DHMC as the director of communications at Dartmouth-Hitchcock Advanced Response Team (DHART). In addition, Kevin grew up in Sunapee, New Hampshire, where many of his friends and family were also part of the extended D-H community. "I wanted to reach out to the people I knew," says Kevin. "I wanted to give back to the people partly responsible for me being here." In early June D-H received the donation of 6,000 medical masks made possible by Kevin's creative determination.
"It's great how these kinds of things can come full circle," says Kevin.
"He saw that health care was struggling. It's what he wanted—and could do," says Tom. "He's made his mother and me very proud."