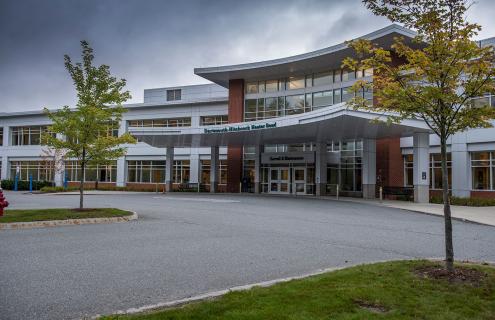 Ten years ago, Dartmouth Health opened its new ambulatory care center on Heater Road in Lebanon, New Hampshire. Just down the road from Dartmouth Hitchcock Medical Center (DHMC), the building aimed to offer easier access to outpatient services and to open space for higher-acuity patients at the hospital.
In its first year of operation, the Heater Road building housed:  
Community and Family Medicine.

Dermatology.

Functional Restoration Program.

General Internal Medicine.

General Pediatrics.

Laboratory Services (phlebotomy).

Occupational Therapy.

Physical Therapy.

Sleep Disorders Clinic.
With these services relocated, DHMC quickly realized the Heater Road project's goals. A new 16-bed medical-surgical unit and a 14-bed critical care unit were built inside the medical center. And Dartmouth Health gained space for purpose-built, easily accessible outpatient care.
Beyond creating space, the building made it possible to co-locate services to enable greater care coordination. Services have become more integrated, and it's easier for clinicians to work together and learn from each other. Built with teamwork and collaboration in mind, the building includes team-oriented workspaces and shared patient registration and waiting areas. Centralized patient support services combine care managers, dieticians, health coaches and mental health specialists to make care coordination easier for both patients and staff.
A strong relationship between dermatologists and primary care providers (PCPs) is just one example of how the Heater Road setting benefits patients and staff. "Several PCPs have expressed how much they appreciate easy access to same-day dermatology visits for their patients," says Chelsea M. Worthen, MBA, director, Clinical Operations and Population Health. "PCP concerns are addressed quickly, and it saves the patient a second trip. The close relationship between departments makes everyone happy."
Since its opening, 3 additional services have moved to the Heater Road building and extended coordinated care capabilities. They are:
Chiropractic Services.

Neurology Headache Clinic.

Weight and Wellness Program.
"The Heater Road building staff demonstrate Dartmouth Health's ability to deliver high-level care beyond the primary academic medical center setting," says Worthen. "The clinicians practicing here offer the same expertise and experience as their peers in the medical center. And the facility offers greater convenience."
Ample parking is, perhaps, the greatest contributor to convenience. "Our parking facilities are a key benefit for patients and staff," says Worthen. "There are always spaces available, which makes it easy to get in and out."
A small number of Heater Road providers also work in clinics outside the building. For most, the building is their full-time, primary location. "A handful of us have worked in the building from the day it opened," says Worthen. "It is truly a special place."