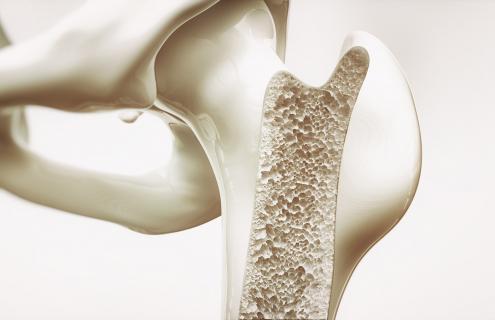 Fracture due to osteoporosis is a widespread issue. Prevention requires the entire health care system, every patient and provider, to work together.
Ugis Gruntmanis, MD
Here is some good, myth-busting news: osteoporosis, or thinning bones, is not a normal side effect of aging, and fractures due to osteoporosis are not inevitable. The National Osteoporosis Foundation and specialists like Ugis Gruntmanis, MD, Endocrinology, Dartmouth-Hitchcock, are amplifying the importance of bone health to reduce the risk of osteoporosis and the pain, cost and often life-changing implications of associated fractures.
"Bone strength increases from puberty to age 35, and with care and attention, bones stay healthy for a lifetime," says Gruntmanis. "So, when a patient fractures an ankle by slipping off a curb or compresses bone when lifting something heavy, we know they have osteoporosis. We're not talking about falling off a cliff but a fall from standing height or motion that bones should withstand."
One in two women and one in four men are at risk of fracture during their lifetimes, which is very high compared to other conditions. Fractures are painful and take time to heal. They also interrupt work, household responsibilities and fun activities. Fractures can alter living arrangements or even prove fatal. "Twenty-five percent of women and 30 percent of men die within a year of fracturing a hip," says Gruntmanis. "Many survivors are weaker, frail and unable to perform activities of daily living, which necessitates at-home care or a move to a nursing facility. It can be emotionally and financially expensive for patients and their families."
Smoking, anti-depressants and aromatase inhibitor treatment for breast cancer all increase bone loss and risk of fracture due to osteoporosis. Those who do fracture a bone due to osteoporosis are at the highest risk for another fracture. Everyone can mitigate their risk of osteoporosis and fracture through a simple recipe of calcium, vitamin D and exercise, notes Gruntmanis.
Calcium is essential for bone health. Women under 50 and men under 70 require 1,000 mg of calcium every day. The calcium requirement increases to 1200 mg/day for women over 51 and men over 71. Vitamin D (400 – 800 IU/day) facilitates the absorption of calcium. Exercise stimulates bone-building and improves strength and balance.
Gruntmanis recently secured a grant to improve the post-fracture care of patients with osteoporosis. Through the grant, D-H will alert all practitioners to look into the cause of fractures for all patients, especially those over 50, and provide treatment and education to reduce fracture risk. Bone density testing is recommended for all women over 65 and men over 70 years of age.
"Fracture due to osteoporosis is a widespread issue," says Gruntmanis. "Prevention requires the entire health care system, every patient and provider, to work together."
For more information, visit nof.org or contact the D-H Aging Resource Center to learn more about healthy aging.

Ugis Gruntmanis, MD, is a physician in the Endocrinology Section of the Department of Medicine at Dartmouth-Hitchcock, and is a professor of Medicine at Geisel School of Medicine at Dartmouth. Gruntmanis also serves as a National Osteoporosis Foundation ambassador. His research over the last 20 years has looked at better treatments for osteoporosis.