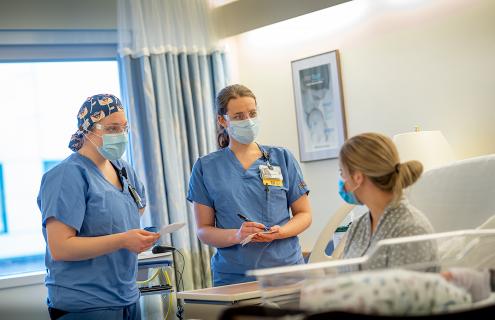 We are a one big family, taking care of many families.
Emily Brayton, MSN, RN
As the seconds counted down to 2021, nurses, moms and families at Dartmouth-Hitchcock Medical Center (DHMC)'s Birthing Pavilion were full of anticipation to welcome the first baby born at DHMC.
After a year of uncertainty, what better way to celebrate than with the hope and joy a new baby brings. "It's festive and celebratory, and everyone remembers the first baby of the year," says Jennifer Martin Benware, BSN, RN, unit supervisor in the Birthing Pavilion.
This year, the honor went to Remington June Camp born on January 1 at 3:01 am (photo below). And while the first baby of the New Year gets a great deal of attention, there is excitement when any baby is born.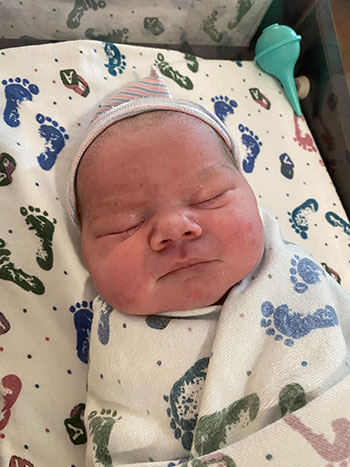 An important part of the work in the Birthing Pavilion is developing the trust between moms and nurses. "It may have to happen quickly because a patient might be in labor and need support right away," says Emily Brayton, MSN, RN, unit nurse manager. Adds Martin Benware, "There's so much power in a woman's birth experience, and that's important for us to remember as their nurse. What you say to them, how you support them and how you involve their loved ones, can make all the difference in a woman's birthing experience."
Like many specialties in nursing, labor and delivery attracts a certain type of person. Some nurses, like Martin Benware and Brayton went to nursing school to become a labor and delivery nurse. "I wanted to be a labor and delivery nurse ever since I saw the Miracle of Life film. While my friends did reports on sports or animals, I was doing them on pregnancy and how to put a baby down to sleep." Others discover it during nursing school. "Once I did my clinical rotations in obstetrics, I knew this was what I had to do," says Jennifer Robtoy, BSN, RN, clinical nurse supervisor.
So what's the draw? It's not only the joy of welcoming a new life into the world, but also, witnessing parents become families.
"My favorite part is caring for the patients, their families—meeting new parents and supporting them," adds Brayton.
And while the Birthing Pavilion is often a place to celebrate, it also has its challenges especially when a family has lost a baby. "Connecting with a couple who have lost their baby is a deep and lasting feeling. I've been present for many births, but the ones I remember most are those families I've grieved with. I see their faces, remember what room they were in and think of their stories often," says Brayton.
Over the past few years, they've also faced an increase of caring for mothers with opioid misuse disorders. "It's a challenge to help them not feel judged and to navigate their health care, finding the best ways to support them and their baby," says Brayton. "As challenging as it is, helping these women and babies is some of the most rewarding work we do."
But there are also those stories that come full circle. "When I was new, I helped a couple who suffered a loss. A few years later, they returned to have a heathy baby. They were excited to see me and eager to share their joy with all of us," says Brayton.
COVID-19 has added a new set of challenges for the Birthing Pavilion. With tight visitor restrictions, family members who often help a mom through her birth can't be there. Nurses have stepped in to give moms any additional support they may need and have found creative ways to make family part of the process.
"There's a lot of video chatting and recording, whatever we can do to fill that void. We've gotten good at holding the cameras at the best angles," says Robtoy. "It's sad, though, that since we are masked all the time, we can't see everyone's smiles anymore."
While Brayton acknowledges that it's not easy saying "no" because of the visitor restrictions, some parents are relieved not to have to choose who gets to be there. Martin Benware also sees another plus, "Patients are getting more rest and having more time to engage in learning how to feed and care for their newborn, which lets them go home sooner."
"The job is complex and lovely all at the same time. But at the end of the day, the best feeling is knowing you made a difference in someone's life," says Robtoy.
With highs and lows, and challenges in between, a strong support system among colleagues is invaluable. "We are a one big family, taking care of many families," says Brayton. "We need to be there for each other so that we can be there for our patients. When I welcome new nurses to our team, I welcome them to our family, because that's what we are—a family that wraps our collective arms around those we care for."