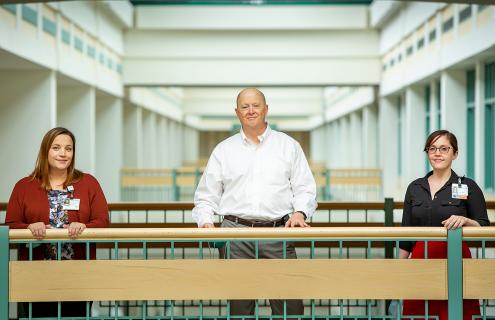 The most exciting thing about TMS is that we've been able to treat patients with very severe and resistant depression—even those who failed ECT, many medications and psychotherapy.
David R. Eiler, MD
There's optimistic news for individuals living with treatment-resistant depression and major depressive disorder. A breakthrough non-medication treatment for depression, Transcranial Magnetic Stimulation (TMS), has proven effective in half of patients—providing symptomatic relief even when other treatments fail.
"About 50 percent of people will respond to TMS treatment, and that response rate is better than medication. It's gentle and well-tolerated compared to medications, and doesn't have the side effects associated with them, which include fatigue, weight gain and reduced libido," explains Julia C. Knight, MD, PhD, director, Mood Disorders and Interventional Psychiatry Clinic at Dartmouth-Hitchcock Medical Center (DHMC). "It's not as effective as Electroconvulsive Therapy (ECT) but it still helps a lot of people. There aren't as many side effects [as with ECT], and I personally think it's the best treatment other than ECT," she says.
TMS works by stimulating neurons in the brain using a non-invasive magnet cleared by the U.S. Food and Drug Administration (FDA). TMS treatment is one of the focuses of DHMC's Mood Disorders Clinic, which studies and addresses bipolar disorder, major depression and dysthymia (persistent mild depression). DHMC has treated more than 50 patients with TMS since its program initiated in November 2018.
"The most exciting thing about TMS is that we've been able to treat patients with very severe and resistant depression—even those who failed ECT, many medications and psychotherapy," says David R. Eiler, MD, director of the TMS service. "It has an excellent risk-benefit profile, and helps half of patients. It's very low-risk."
A TMS patient, who suffered from depression and anxiety for the last 10 years, sought help through therapy, medication and ECT, but nothing worked. Medications were ineffective or caused uncomfortable side effects, and while ECT worked initially, the effects wore off. As one more option of hope, a psychiatrist recommended TMS.
"I immediately said I wasn't going through that. But my partner, who watched me struggle for so long, said, 'We've got to try and do what we can,'" the patient says. "Then, about four weeks into the treatment, it was like a light switch turned on. I woke up one morning, and my partner said to me, 'look at that, you're smiling!' I hadn't felt that great in a very long time."
Short, frequent treatments
TMS protocol consists of 36 treatments over nine weeks. The first visit takes 30 minutes to one hour to tailor the magnet settings to the patient's brain. Each subsequent visit is only 15 minutes long, and patients must have treatments five days per week for six weeks, and then taper to three visits for one week, two the following and finally one visit during the final week.
"The magnet creates an electrical field that stimulates cells in the specific part of the brain that tends to be affected by depression," Knight says. "It corrects and normalizes the pathways that depression disrupts."
She reports many patients feel better and more energized after their treatments, and there are no memory-related side effects. Some patients do well for a long time after treatment is complete, but some may eventually require additional treatments. "There's not a lot of data about retreatment, but it is helpful for some people, as depression is chronic and must be managed over time," Knight notes.
The side effects during treatment are minimal. Some patients have headaches and facial twitching during them, or a mild headache or nausea immediately afterward. Typically, there are no side effects reported between treatments.
"It felt a little strange at first," says the patient. "But after the initial treatment, it became something I was used to." She also says that what eased any anxiety about the treatment was the support and care of the TMS team throughout the entire process.
People with a history of seizures cannot undergo TMS because of a very small risk–0.1 percent–of seizure. Also, individuals with aneurism clips, brain stents or cardiac pacemakers cannot participate because of the magnetic technology. Knight explains that patients with other non-magnetic sensitive implants, such as c-spine hardware, have been treated.
The future of TMS
The Mood Disorders Clinic has the capacity to treat more patients using TMS. The consultation-based clinic provides recommendations to referring providers and individualized treatment plans for each patient.   
"TMS is underutilized because of a lack of awareness and training," says Eiler. "It requires continuing education and credentials for psychiatrists, and that's easier to obtain if providers are associated with a hospital. DHMC offers training to our residents and staff, so participation will grow over time."
Eiler predicts current insurance requirements around TMS treatment will be less restrictive, as evidence is expanding about its efficacy for people with mild and moderate depression. Also, many patients don't want to take medication, and this provides an alternative.
"We were lucky to be able to afford the treatment. Our hope is that everyone will have access to this kind of treatment," the patient says.
"While TMS is used primarily to treat resistant-depression, there's a lot of research on using it to treat other neurological and psychological ailments," Eiler shares. "I expect TMS to be an area of great growth to treat pain, substance abuse, recovery from brain injury, dementia, obsessive-compulsive disorder (OCD) and bipolar disease. Even if a portion of the research turns out, we may have FDA-approved indications for other conditions in a few years."
If you are a good candidate, "There's really no reason not to try TMS, given how safe and well-tolerated it is," Knight encourages. "When no other treatments have worked, it can impact a patient's life in a way they never imagined."
"I am incredibly grateful for the treatment. It feels wonderful to have my life back again. Every day since the morning I woke up smiling, I've been making an effort to appreciate every moment of every day," says the patient.
For additional information about TMS treatment at DHMC, visit the Transcranial Magnetic Stimulation (TMS) page. To schedule an appointment, call the Mood Disorder Clinic at (603) 650-0625.