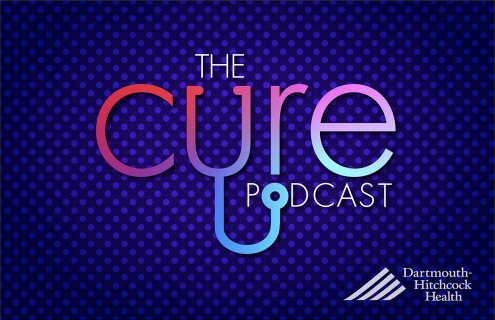 COVID-19 has proven to be not only a devastating disease for a host of reasons, but also a complicated one. In the year since the COVID-19 pandemic began, infectious disease physicians and researchers at Dartmouth-Hitchcock (D-H) and around the world have raced to keep up with the ever-evolving information we've learned and will continue to learn about this novel coronavirus.
In the most recent episode of D-H's "The Cure Podcast," D-H infectious disease and international health physician Richard A. Zuckerman, MD, MPH, director of D-H's Transplant and Immunocompromised Host Program, discussed the unusual immunological responses many COVID-19 patients experience and data on novel treatments for the disease currently being studied.
 Listen to episode 8 of "The Cure Podcast" HERE
"The patients who get the most sick from COVID-19 have an uncontrolled immunologic phenomenon happening," Zuckerman said. "We're not 100 percent sure what sets off this immune phenomenon, whether it's a genetic component, a viral component, or a little bit of each. I suspect it's got a number of different factors, but a certain point, the infection transitions to be one less of viral effects and one more of immune effects."
About Dartmouth-Hitchcock Health
Dartmouth-Hitchcock Health (D-HH), New Hampshire's only academic health system and the state's largest private employer, serves a population of 1.9 million across northern New England. D-HH provides access to more than 2,000 providers in almost every area of medicine, delivering care at its flagship hospital, Dartmouth-Hitchcock Medical Center (DHMC) in Lebanon, NH. DHMC was named again in 2020 as the #1 hospital in New Hampshire by U.S. News & World Report, and recognized for high performance in 9 clinical specialties and procedures. Dartmouth-Hitchcock Health includes the Norris Cotton Cancer Center, one of only 51 NCI-designated Comprehensive Cancer Centers in the nation; Children's Hospital at Dartmouth-Hitchcock, the state's only children's hospital; member hospitals in Lebanon, Keene, and New London, NH, and Windsor, VT, and Visiting Nurse and Hospice for Vermont and New Hampshire; and 24 Dartmouth-Hitchcock clinics that provide ambulatory services across New Hampshire and Vermont. The D-HH system trains nearly 400 residents and fellows annually, and performs world-class research, in partnership with the Geisel School of Medicine at Dartmouth and the White River Junction VA Medical Center in White River Junction, VT.