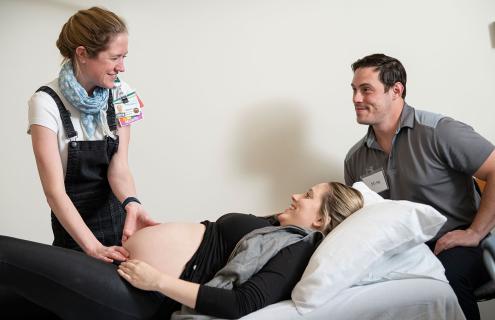 Obstetrics (OB) care consists of regular provider appointments to monitor pregnancy progress. Expectant people typically attend these visits alone, where their blood pressure, weight, abdominal measurement and baby's positioning and heartbeat are checked.
Dartmouth Hitchcock Medical Center (DHMC) provides this traditional prenatal care and offers an alternative option at its Women's Health Resource Center (WHRC) in Lebanon. The CenteringPregnancy® model groups people by their due date month. They meet for 2 hours monthly—along with a support person—throughout their pregnancies for instruction by licensed DHMC midwives, nurses and medical residents.
"During pregnancy, people crave the company of others going through the same experience. It's a vulnerable time and it's great to be in a community," explains Jessica Densmore, MSN, CNM, CenteringPregnancy® director, DHMC. "It's also really important to give families control over their own healthcare."
Densmore was instrumental in launching DHMC's CenteringPregnancy® program and securing full-site certification from the Centering Healthcare Institute in 2014. Previously, she helped develop and obtain certification for Cheshire Medical Center's CenteringPregnancy® program after studying the concept at Yale University.
"Centering isn't a new program. It's the brainchild of a midwife, Sharon Schindler Rising, who was frustrated with the norm of prenatal care," Densmore says.
How Centering works
Centering empowers participants to embrace self-care. Patients take their own blood pressure and weight, and record the data before each meeting. Individual provider time follows, when belly measurement and the baby's positioning and heartbeat are monitored. Co-facilitators are present in case a patient requires transport to DHMC for a full evaluation, due to issues like pre-term labor or high blood pressure.
Structured group meetings feature the CenteringPregnancy® curriculum, with research-based topics related to each pregnancy stage. These include body changes, exercise and nutrition, prenatal testing, managing stressors and preparing to nurse. Discussions are interactive and facilitators ensure all questions are answered.
Demand for Centering is growing. "It creates networks that participants don't want to end," Densmore says. "Parents provide child care for each other, find each other jobs and invite one another to their babies' first birthday parties."
Cherished support and connections
When Lauren Amrhein visited DHMC for her first OB/GYN visit, she noticed a Centering poster. She was immediately drawn to the concept of group prenatal care. Her provider explained the program and the options she had: traditional OB/GYN visits or the Centering program, supported by midwives.
"I was intrigued about Centering and its invitation for partners to join the experience, so my husband could also participate," Amrhein explains. "I liked the idea of a community of folks going through similar things at similar times—and learning together. We all have busy lives and the idea of having shorter, 2 hour meetings instead of full day classes also appealed to me."
She and her husband joined Centering with other participants expecting babies in October of 2022. They enjoyed the flexibility of topics presented with a nonbiased approach, the opportunity to ask questions and learn from their Centering midwife, Anna C. Childs, MSN, CNM, and understanding how pregnancy, birth and the postpartum period are natural processes. The couple found the virtual DHMC Birthing Pavilion visit especially valuable.
"We learned about taking care of ourselves and our baby after the birth, too," Amrhein says. "We felt as prepared as we could be—and ready to build our little family and learn more about each other once the baby arrived."
Centering participants are given a contact list for any issues that arise after their babies are born. Amrhein says she used the resources several times, making her and her husband feel supported and more confident as they navigated caring for their baby.
Amrhein and some of her fellow Centering participants met to introduce each other to their babies within 2 months of their births. They shared their experiences, exchanged phone numbers and took photos of their 5 babies together.
"When you hang out together that long and talk about such intimate things, you create a strong bond," Amrhein explains. "These are people I trust."
In-person sessions covered by insurance
While Centering groups met virtually during the COVID-19 pandemic, the program has returned to in-person sessions.
Centering bills insurance providers the same as traditional prenatal care. Participants require a referral from the OB/GYN Departments of DHMC, Alice Peck Day Memorial Hospital, New London Hospital or Newport Health Center.
For more information, visit DHMC Centering online or call 603-653-9300.