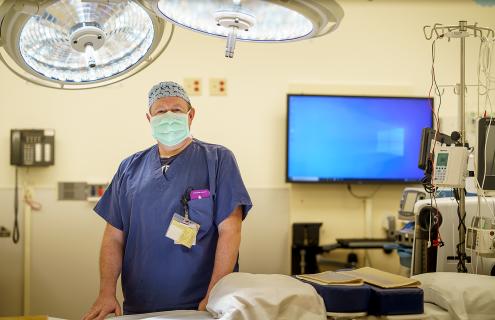 In our staff profile series highlighting the roles of individuals and their departments across the organization, D-H Weekly visits with Zachary A. Cummings, RN, a clinical nurse in Perioperative Services.
What is the role of a perioperative nurse?
Perioperative nurses are involved in all the stages of patient care from the time they come in for their surgery and throughout their recovery. My role is as a circulator nurse in the Operating Room (OR).
The main focus of my job involves preparing the operating room. I assist with mostly orthopaedic surgeries, so choosing and setting up the appropriate bed is an essential part of that. There are seven beds that we use based on the procedure. I also have to make sure that any needed diagnostic equipment—such as X-ray and monitoring equipment—is accessible or positioned properly, and coordinating with perioperative technicians to make sure that necessary supplies are on hand and ready to use.
It's also up to me to ensure that the patient is positioned appropriately for the surgery and that any potential pressure points are protected using positioning devices. Anything that touches the patient's skin is well padded and we are very conscious about protecting nerves near the surface of the skin like the ulnar nerve, otherwise known as "the funny bone."
Once the surgery begins, I observe the room, anticipating what someone may need. During the surgery, I might be asked to assist with intubation at the start of the surgery, or extubation at the end, take care of requests or update family members. Once the patient is sent to recovery, I finish cleaning the room and coordinate with the team on the next surgery.
Is there a special training for nurses who work in perioperative nursing or in the OR?
Every nurse starting in Perioperative Services has to go through an orientation for a number of months, sometimes as long as a year. After two years of experience in perioperative nursing, you can apply to become a certified perioperative nurse (CNOR), which involves a test and certification from the state.
What got you interested in nursing?
My sister went to nursing school, and I think that's a big part of what inspired me. In college, I majored in biotechnology, but at the time, there weren't many jobs available near me. I worked as a phlebotomist (that's someone who takes samples of blood for testing) part-time while going to school, and found that I really enjoyed working with patients. Since I had experience interacting with patients and in medical diagnostic procedures, I decided to go to nursing school myself.
What brings you the greatest joy in your work?
Doing something that's hard, because it makes it worth doing. You learn more when things are challenging.
What's the biggest challenge in your work?
Situations can change rapidly, and you have to be okay with that.
There's a concept called the "surgical ear." It refers to something beyond listening closely to the environment in the OR and to the surgeons. You have to be able to anticipate their needs so they can concentrate on what they do best. At the same time, you have to be able to focus on your responsibilities. It takes time to develop that skill.
What advice do you have for someone who's interested in being a perioperative nurse?
I tell new nurses, just let the wave push you; don't swim against the current. Take what you are given and go from there.
Is there anything else you'd like to add about the work you do?
I'm not sure you'll find a better team environment than in the OR. By nature of the job, you have to work as a team. In other areas of care, you might be collaborating with other nurses and staff, but much of the time, the work you do comes down to your individual action. But in the OR, you are part of the greater whole. I don't think I've ever worked with a tighter group of individuals.
Everyone watches out for one another. When you enjoy the team that you work with, it makes it easier to work in a high-stress environment. Just like in team sports, when you're having fun or enjoying the game, you perform that much better.
How do you like to spend time off work?
I'm kind of a homebody, but I like spending time outdoors. I do a lot of work in my backyard—like tapping maple trees on my property.
What's something not a lot of people know about you?
I like to brew beer. 
To learn more about perioperative nursing at D-H watch this video.