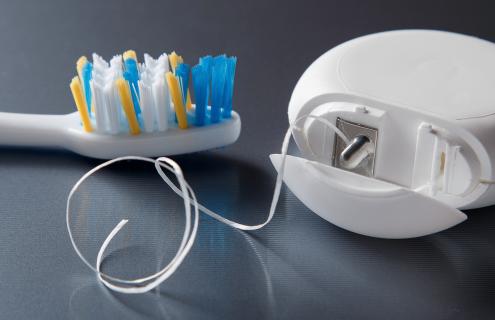 When we see advanced dental or oral disease, we often say, 'Wish we had seen this sooner.'
Rocco Addante, MD, DMD
Of all the things the pandemic canceled, routine dental appointments might have been the least complained about. Unfortunately, a lapse in regular professional dental examinations and oral health assessment can allow small, manageable issues to become larger, more difficult and more expensive conditions to treat.
"When we see advanced dental or oral disease, we often say, 'Wish we had seen this sooner,'" says Rocco Addante, MD, DMD, oral and maxillofacial surgeon at Dartmouth-Hitchcock Medical Center.  "Premalignant spots, defects in bone or gums can often begin without pain and can be very difficult to detect without proper instruments, lighting and sometimes magnification."
At least yearly, or twice a year, dental cleaning performed by a dental hygienist removes bacteria-carrying plaque which can lead to dental cavities and gum disease. Chronic abscesses left untreated can also lead to or increase the severity of existing cardiac problems and other general health issues. Routine checkups allow for visual oral examination and x-rays that help dental hygienists and dentists locate cavities, tumors or cysts in early, treatable stages.
Some patients with pre-existing conditions may need more frequent observation. "Diabetic patients and those who are immunocompromised may need a higher level of vigilance," says Addante. "Patients who are receiving chemotherapy or radiation treatment, especially for head and neck cancers, are more susceptible to dental and oral infections."
Interestingly, the COVID-19 pandemic itself has also led to an increase in "stress" damage to teeth. "Stress often leads to teeth grinding known as bruxism as well as smoking and drinking," says Addante. "All of these coping habits can increase oral disease. And while working from home, people tend to snack more often and eat more sweets. All of these activities can lead to dental issues that again, start small and remain undetected until there is a real problem."
Getting back to regular dental care is very important, and, thanks to the hard work of dental office staffs throughout the region, it is also safe. "Dentists are always on the forefront of hygiene," says Addante. "Offices have stepped up already rigorous practice routines by improving ventilation systems and material handling, structuring schedules and waiting rooms to allow social distancing, taking temperatures, providing hand disinfectants, wearing masks and other personal protective equipment and asking patients about their recent health and contact with COVID-19 in order to assure the best patient care."
Addante explains that anyone can get into trouble without routine dental checkups. "The Upper Valley is fortunate in having a stellar dental community that is seeing patients return for checkups and follow up on treatment. It's great to see people getting back to a healthy dental care routine."