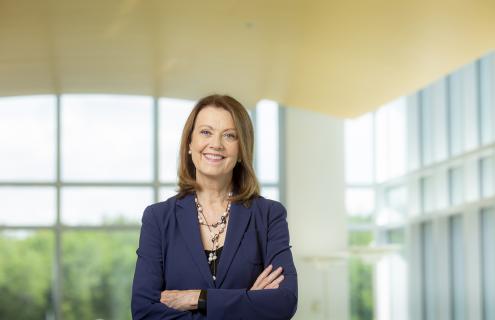 It seems like we are finally getting back to a semblance of normalcy. But, we are not out of the woods yet with COVID-19. According to a recent New York Times article, "The spread of the super-contagious COVID-19 Delta variant is prompting new lockdowns around the world and spurring new warnings from public health officials." The article further explains that "Delta, formerly known as B.1.617.2, is believed to be the most transmissible variant yet, spreading more easily than both the original strain of the virus and the Alpha variant first identified in Britain."
I asked DHMC Chief Quality Officer Michael Calderwood, MD, MPH, to review what we know and what we don't know yet about the Delta variant and how we should protect ourselves. 
Michael Calderwood
As Joanne mentioned above, the Delta variant (B.1617.2), which originated in India, is now the dominant variant of COVID-19 in the United States, and is more transmissible than the original virus. It is also connected with four times the risk of hospitalization for unvaccinated individuals compared to the original virus. 
Those who are fully vaccinated—especially those living in highly vaccinated regions like ours—are well protected against this variant despite a small decrease in the overall level of protection provided by vaccines. Both the Moderna and Pfizer mRNA vaccines remain 80-90 percent effective in preventing symptomatic COVID-19 from the Delta variant and more than 90 percent in preventing severe disease leading to hospitalization. The adenovirus vector vaccines (vaccines that trick the body into thinking it's been infected), such as the one made by Johnson & Johnson (Janssen), provide more protection after a single dose but appear to show less protection than two doses of the mRNA vaccines against the Delta variant. Some are discussing booster doses for those who originally received a Johnson & Johnson (Janssen) vaccine. 
Masks
Even as mask mandates have been lifted for fully-vaccinated individuals, there are still questions about whether people should wear masks indoors or not. The recommendation from the CDC is for unvaccinated individuals to continue to mask up indoors and practice physical distancing to protect themselves from the circulating Delta variant. The reason? Individuals who have not been vaccinated remain at high risk of hospitalization, long-term symptoms and death from COVID-19. The CDC has reported that 99.5 percent of all COVID-19 deaths are in unvaccinated individuals. Others also recommended to continue mask and practice physical distancing inside are those with weakened immune systems, such as transplant recipients and patients taking medications that suppress an immune response, even if they are fully vaccinated. This is because they may not mount as strong of an immune response to the vaccine.
For health care settings, masking recommendations have not changed. D-HH continues to require mask use for staff, patients and visitors or any others entering our facilities, whether vaccinated or not. Masks are also still recommended when traveling by plane, train or bus, regardless of whether you are vaccinated or not. 
Continued vaccine hesitancy
A recent Household Pulse Survey from May 26-June 7, 2021, by the U.S. Department of Health and Human Services, found that, in New Hampshire, 11.3-13.6 percent of individuals were hesitant or unsure about getting the vaccine, and 6.1-7.0 percent were strongly hesitant. The top three reasons noted: "don't trust COVID vaccines," "don't trust the government" and "don't believe I need it." It is that last reason where we have the most opportunity to increase vaccination, especially among those who are younger than 30 years of age. Some of these individuals will be vaccinated as a requirement for school or work, but most will need to be convinced that they remain at risk if unvaccinated. 
The spread of health misinformation on social media is another reason why individuals are not getting vaccinated, prolonging the pandemic. In an interview last week, U.S. Surgeon General Vivek Murthy, MD, asked that before sharing information on social media that we pause and make sure that the information is from a reliable source. D-HH has reliable information on the COVID-19 vaccines. 
With the Delta variant, the ability to achieve a measurable level of herd immunity (which is the proportion of a population that is protected from infection either from having the disease or being vaccinated) has changed. And because we've had lower rates of infection in our area, that means we have less natural protection. The higher transmission and lower effectiveness of some of the vaccines means we now need to vaccinate more than 90 percent of the population to reach herd immunity. Currently, the percentage of the total population fully vaccinated in New Hampshire is 58 percent (66 percent of those 12 and older who are currently eligible for the vaccine), and Vermont is 67 percent (76 percent of those 12 and older who are currently eligible for the vaccine).
With the Delta variant, each individual who is infected might transmit that infection to five (and possibly up to eight) individuals if unvaccinated. With lower vaccination rates in younger age groups (lowest among those ages 12-17), and schools planning to operate normally in the fall, it is more important than ever to get children vaccinated quickly.
Though COVID-19 will continue to evolve, getting vaccinated is the best way that everyone can help to combat transmission and keep their families, colleagues and communities safe. To find out where you, your family members or others in your community can get vaccinated, call the D-H COVID Hotline at (603) 650-1818, visit COVID-19 Vaccine Updates or Vaccine.govs.