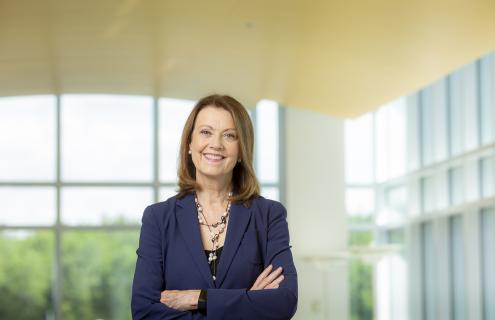 Hospitals and health systems like ours have provided much-needed essential care, education and support throughout the pandemic. Dartmouth-Hitchcock Health's (D-HH's) doors have remained open, and we have served our local communities and provided resources to the states of New Hampshire and Vermont with D-HH providers and staff providing scientific consultation to schools, government and employers to keep us all safe. 
Part of our designation as a not-for-profit hospital is that we provide healthcare for all—regardless of one's ability to pay. Our not-for-profit designation recognizes the valuable work we have always performed, and which is more than delivering patient care. As an "anchor institution" in our community, we need to consider how we can inclusively and sustainably contribute to the long-term health and well-being of the communities we serve. This includes promoting community collaboration to address economic and racial inequities that create uneven access to economic opportunity—and contribute to poor health. Done intentionally, community investments create a healthier workforce, create economic opportunity and reduce the health disparities in our region. 
D-HH has purposefully invested in our communities in ways that many of you may not be aware of. Government Relations System Vice President Matthew Houde and Population Health Vice President Sally Kraft, MD, MPH, discuss how we, as an organization, give back to our region. 
How has D-HH supported the state throughout the pandemic?
Matthew Houde: COVID-19 is a good example of D-HH providing support to the state and our region. We have been a significant resource, providing subject matter experts, including infectious disease physicians, laboratory specialists and supply chain experts. Our lab set up COVID-19 testing in-house and provided testing for the state of New Hampshire at the start of the pandemic, and as an academic medical center, we provided access to clinical trials of early COVID-19 treatments.
When access to non-emergent care and capacity became a challenge, we worked with stakeholders and the states for licensing waivers so that our clinicians could provide care through telehealth.
Sally Kraft: Dartmouth-Hitchcock (D-H) employees and our colleagues across the system spent 6,340 hours giving vaccinations at New Hampshire vaccination sites and supersites. At Dartmouth-Hitchcock Medical Center (DHMC), we administered 18,000 COVID-19 vaccinations at our walk-through and drive-through sites, and working together, D-H has provided 54,000 vaccines. D-H also supports the Upper Valley and the Greater Sullivan County Public Health Networks, which have provided more than 16,000 vaccines, including vaccinations for underserved populations, bringing the vaccines to patients in their homes, at food shelters, or at community-based substance use treatment sites. 
We hosted 14 COVID-19-related virtual courses through our Project Echo program. More than 300 individuals registered for topics such as how to address vaccine hesitancy, keeping employees safe, opening and running schools and operating a business, among others.
And when there was clearly a need for financial support, we established the Dartmouth-Hitchcock Health COVID-19 Community Relief Fund and supported coalitions such as Upper Valley Strong and Greater Sullivan Strong.
Our goal in all of this work was to support people so they could stay safe, especially early on in the pandemic, and keep our communities thriving.
What makes D-HH unique as an "anchor" institution?
Kraft: With income, employment and other social conditions being the key drivers of health disparities, as an anchor institution and a not-for-profit health system, we provide financial and expert support to help improve our whole population's health and health equity. We intentionally align our business practices to address the root causes of health inequity.  
There are four key strategies we employ to improve the conditions that impact the health—and health disparities—of our local communities:
Hire locally and build career employees – By increasing opportunities for those with limited access to livable wages and careers and developing an equitable, thriving D-HH workforce. For example, we have increased wages and enhanced our recruitment in populations with traditional barriers to employment.
Grow local businesses – By leveraging purchasing power to advance regional economic vitality, to support D-HH's philosophy of diversity, equity and inclusion while keeping dollars local. For example, we have identified local sources for key supplies and services, and sourced food from northern New England producers.
Invest in communities – By leveraging D-HH investments to address needs for people and the workforce in New Hampshire and Vermont. We support initiatives for affordable housing, early childcare programs, food access in the community and within our facilities, behavioral health services, intimate partner/violence and older adults.
Practice environmental stewardship and sustainability – By leading our region in environmentally sustainable management of land, energy and toxic waste. For example, we have invested in solar energy projects and committed unused land to sustainability and food production projects.
What is important in all of this work is that we are working together with community partners throughout the state, to share information and knowledge so we can direct people and funds to where there is the greatest need—it's about neighbors caring for neighbors.