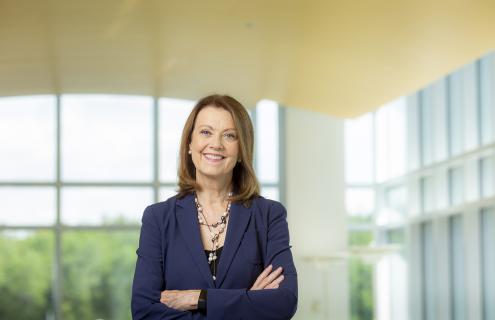 It is hard to believe Saturday, September 11, 2021, marks 20 years since Al Qaeda operatives carried out the deadliest terror attacks in our country's history, killing 2,977 people from 93 nations: 2,753 people in New York; 184 people at the Pentagon; 40 people on Flight 93 that landed in a Pennsylvania field; and thousands more were injured. As PBS's "Frontline" series notes, "Today the complex legacy of the attacks and the U.S.'s ensuing 'war on terror' is still unfolding, from the bloody conflicts in Afghanistan, Iraq and beyond to division and distrust at home."
For those interested in revisiting this time in history, PBS has cataloged 17 documentaries that illustrate the lasting impact 9/11 has had on the U.S. and the world.
This event changed us as a country. We felt vulnerable, and the context for how we lived in the world shifted. Yes, there were specific changes as a result of the attacks, most importantly that we came together as a country, united in bringing those responsible to justice and creating a whole new appreciation for what it means to live with terrorism, how precious life is and how it can be taken from you in an instant.
I was working and living in northern New Jersey at the time of the attacks. In May of 2001, I had moved from Charleston, SC, to take a new job at Atlantic Health System. Our service area was in the New York Metro disaster plan. During our monthly system Quality Meeting, I received a message on my BlackBerry phone from our chief financial officer that a small plane had accidentally hit one of the World Trade Center Towers. A short 17 minutes later, I received another message that a second plane had hit the second tower, and it was believed not to be an accident.
Hijacked Flight 11 was flown into floors 93-99 of the 1 World Trade Center (the North Tower) at 8:46 am, followed by Hijacked Flight 175 striking floors 77-85 of 2 World Trade Center (the South Tower) at 9:03 am. When the Twin Towers were struck, it is estimated that there were between 14,000 and 19,000 people in the World Trade Center Complex at the time. Of those, the majority evacuated safely, but as they rushed out, first responders rushed in, trying to save those still trapped or injured.
According to the 9/11 Memorial & Museum website, the plane's burning jet fuel intensified the impact of the fires weakening the steel support trusses, which attached each floor to each building's exterior walls. The initial impact and damage to the structural columns ultimately caused both towers to collapse. The five other buildings that were part of the World Trade Center Complex were also destroyed. Thousands of volunteers came to Ground Zero to help with the rescue, recovery and clean-up efforts, and on May 30, 2002, the last piece of the World Trade Center steel was ceremonially removed.
In addition to the attack on the World Trade Center, a third plane crashed into the Pentagon in Arlington, VA. After learning about the other attacks, passengers on the fourth hijacked plane, Flight 93, fought back, and the plane was crashed into an empty field in western Pennsylvania.
That morning, I quickly pulled the hospital chief nursing officers from the Quality Meeting and asked them to go back to their facilities and discharge every patient they could to free up beds for the injured. Our teaching hospital discharged 177 patients in less than four hours. We sent medical teams to Jersey City to care for those able to exit Manhattan by boat. We had care teams meeting the express train from Penn Station to provide first aid and decontaminate people when necessary. We had no idea what airborne issues we could have been dealing with. We even had a carful of FBI agents carrying assault weapons, shell-shocked and covered with dust from the fire. They had commandeered a taxi cab to drive to our emergency room. We only had a handful of hospital admissions, and none of the injuries were life-threatening.
My younger brother was working in Midtown Manhattan and had accumulated a number of "refugees"…people that were in New York on business with nowhere to go. They were able to board the first train out of Midtown which arrived at Summit, NJ, at around 10 pm. He called me and asked what precautions they should take before entering his house. I said, have them drop their clothes in the garage and wash them. Go in and hug your family because at least you are coming home tonight. There were cars in every train and ferry station in New Jersey that sat in the parking lots for weeks…waiting for owners who were never coming to claim them.
There are many iconic images, which always hit me in the pit of my stomach. Many people faced with an incomprehensible choice complicated by fear and death chose to jump to their deaths rather than face the raging inferno inside the building.
My late husband, DJ, did not know anyone that was affected that day, but he was, as many were, overwhelmed with sadness and despair over what had occurred. I had my work to focus on, so I was in a better place.
The attack also caused significant economic damage affecting the global financial markets and all industries. As noted on the website Investopedia, "Airlines and insurance companies took the hardest immediate hit, and U.S. stock markets initially fell more than 10 percent in the days after. Despite its lasting impact on the American psyche, the economic and financial impact of 9/11 was fairly muted, with markets bouncing back months after to new highs. This was helped, in part, by a resilient American economy along with support and stimulus from the federal government."
There are so many similarities to what we are experiencing right now with the pandemic…trying to fight an adversary that we can't see, first responders risking their lives, innocent lives lost, and a feeling of uncertainty and vulnerability. What we achieved then and have not yet been able to achieve today is the ability for everyone to come together as a country with a unity of purpose to contain the pandemic. There are many factors at play, but if we don't figure out how to come together as communities and focus on the public good, it's unlikely we will ever feel safe from this virus and the variants that will follow.
As you reflect on 9/11, please consider how you can create a positive impact in your world and how you are creating a positive impact in the world.