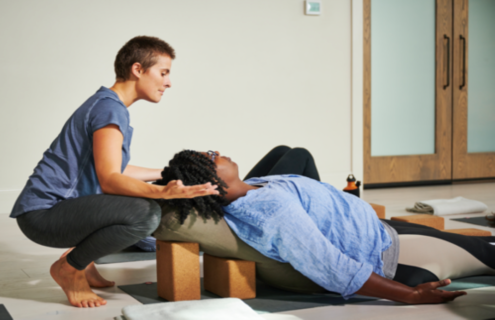 LoveYourBrain Yoga shows tremendous potential to be a great asset to our patients and people around the world living with MS.
Andrew D. Smith, MD
Researchers from the Department of Neurology at Dartmouth Hitchcock Medical Center (DHMC), in partnership with the LoveYourBrain Foundation, a 501(c)(3) nonprofit organization based in Norwich, VT, recently published the results of a joint study on the impact of LoveYourBrain Yoga, a yoga program designed by LoveYourBrain to benefit survivors of traumatic brain injury (TBI), in patients with multiple sclerosis (MS). The study, published in the journal Complementary Therapies in Clinical Practice, showed that the program improved fatigue, positive affect, and anxiety among MS patients, and has potential to be a viable complementary, community-based therapy model for MS.
Although yoga is among the most common forms of complementary and alternative medicine used for MS symptom management, yoga services that are safe and specific to the MS community are largely inaccessible. To address this, Andrew D. Smith, MD, a neurologist specializing in MS at DHMC and leader of the study team, approached Kyla Pearce, PhD, MPH, senior director of programs at LoveYourBrain, to explore how the yoga program might be applied to the MS population.
The study compared LoveYourBrain Yoga to a control among 15 people with MS living in the Upper Valley. Significant improvements were found in fatigue, positive affect and wellbeing, and anxiety after yoga compared to the control. The results suggest yoga may improve a range of MS symptoms and offer a means for acquiring new skills for stress reduction, anxiety management, and overall well-being. Given the high costs of medications and the adverse side effects associated with certain drugs for MS, LoveYourBrain Yoga may be an effective symptom management approach for people living with MS.
"Our goal with MS patients at DHMC is to help reduce any barriers they have to living happy, fulfilling lives," Smith said. "This disease can result in significant disability and any tool to increase quality of life is of enormous benefit. LoveYourBrain Yoga shows tremendous potential to be a great asset to our patients and people around the world living with MS. I'm grateful for the chance to have partnered on this study with LoveYourBrain and look forward to continue working toward our shared goal of improving the lives of people with MS."
"We're extremely proud to have been able to work with DHMC to leverage our learnings with LoveYourBrain Yoga for TBI over the past seven years to now focus on a similarly under-resourced neurological community," Pearce said. "We hope this study will serve as a blueprint for yoga teachers and medical professionals seeking to make yoga services more accessible for people with MS in New Hampshire, Vermont, and beyond."
The study may be viewed in its entirety here. To learn more about LoveYourBrain, visit https://www.loveyourbrain.com/.
About Dartmouth Health
Dartmouth Health, New Hampshire's only academic health system and the state's largest private employer, serves patients across northern New England. Dartmouth Health provides access to more than 2,000 providers in almost every area of medicine, delivering care at its flagship hospital, Dartmouth Hitchcock Medical Center (DHMC) in Lebanon, NH, as well as across its wide network of hospitals, clinics and care facilities. DHMC is consistently named the #1 hospital in New Hampshire by U.S. News & World Report, and recognized for high performance in numerous clinical specialties and procedures. Dartmouth Health includes Dartmouth Cancer Center, one of only 54 National Cancer Institute-designated Comprehensive Cancer Centers in the nation, and the only such center in northern New England; Dartmouth Health Children's, which includes Children's Hospital at Dartmouth Hitchcock Medical Center, the state's only children's hospital, and multiple clinic locations around the region; member hospitals in Lebanon, Keene and New London, NH, and Bennington and Windsor, VT; Visiting Nurse and Hospice for Vermont and New Hampshire; and more than 24 clinics that provide ambulatory services across New Hampshire and Vermont. Through its historical partnership with Dartmouth and the Geisel School of Medicine, Dartmouth Health trains nearly 400 medical residents and fellows annually, and performs cutting-edge research and clinical trials recognized across the globe with Geisel and the White River Junction VA Medical Center in White River Junction, VT. Dartmouth Health and its more than 13,000 employees are deeply committed to serving the healthcare needs of everyone in our communities, and to providing each of our patients with exceptional, personal care.