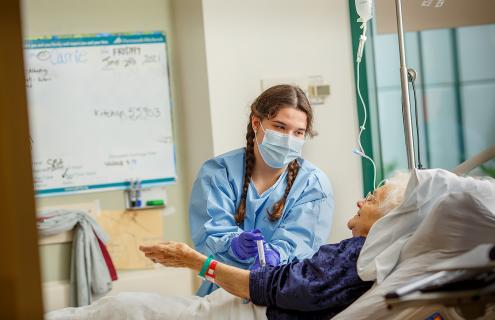 There is a national staffing crisis in healthcare. Here's what we all can do to help.
At Dartmouth-Hitchcock Health we are:
Recognizing the value of our employees by raising rates of pay, including our minimum wage to $17/hour.

Enhancing our benefits to be a place where people want to join and build their careers.

Providing opportunities for professional development and growth, including access to education, at every level of the organization.

Protecting the health of our patients and staff by requiring employees to be vaccinated and screening every visitor and patient at our facilities.

Continuing our commitment to deliver advanced medical knowledge and services through highly personal, localized care.
Here is how you can help:
Please get the vaccine—staying healthy takes the pressure off of our healthcare workers.

Show patience and kindness to our staff—they are working hard to continue to deliver safe, high-quality care.

Continue safety measures, like physical distancing and wearing a mask, to help control this pandemic.
Learn more: