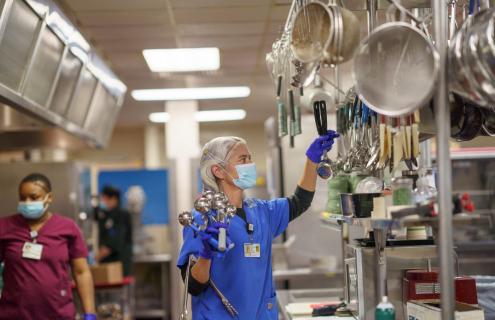 To fill a variety of positions across the organization, Dartmouth-Hitchcock (D-H), New Hampshire's largest private employer, is hosting an open interview day on Thursday, October 7. Interviews will be held in person at Dartmouth-Hitchcock Medical Center (DHMC), located at 1 Medical Center Drive in Lebanon, from 9 a.m. to 5 p.m.
D-H offers on-the-job training as well as well as a vast array of opportunities to grow a career through many different and exciting career paths. Minimum wage across D-H was also recently raised to $17 per hour, securing the organization's position as one of the most competitive employers in New Hampshire.
Interviews will be held for a variety of roles and positions, including:
Security officers
Registration representatives
Environmental services technicians (housekeeping) – sign-on and retention bonuses available
Food service positions – cashiers, food service attendants, nutrition services and dietary aides – sign-on and retention bonuses available
Sterile processing technicians
Associate perioperative support technicians
Patient transporters
Supply chain technicians
Access screeners
Lab assistants
Phlebotomists
Interviews will last approximately 30 minutes. Job candidates are asked to bring a paper copy of a résumé or work history to their scheduled interview.
Scheduling interviews in advance is required. Candidates will receive an interview confirmation via email with event details/directions and COVID-19 guidelines. To schedule an interview, visit https://dhcareers.org/greatnewrates/.
About Dartmouth-Hitchcock
DARTMOUTH-HITCHCOCK HEALTH (D-HH), New Hampshire's only academic health system and the state's largest private employer, serves a population of 1.9 million across Northern New England. D-H provides access to more than 2,400 providers in almost every area of medicine, delivering care at its flagship hospital, Dartmouth-Hitchcock Medical Center (DHMC) in Lebanon, NH. DHMC was named in 2019 as the #1 hospital in New Hampshire by U.S. News & World Report, and recognized for high performance in 13 clinical specialties and procedures. Dartmouth-Hitchcock Health also includes the Norris Cotton Cancer Center, one of only 51 NCI-designated Comprehensive Cancer Centers in the nation; the Children's Hospital at Dartmouth-Hitchcock, the state's only children's hospital; affiliated member hospitals in Lebanon, Keene, and New London, NH, and Windsor, VT, and Visiting Nurse and Hospice for Vermont and New Hampshire; and 24 Dartmouth-Hitchcock clinics that provide ambulatory services across New Hampshire and Vermont. The D-H system trains nearly 400 residents and fellows annually, and performs world-class research, in partnership with the Geisel School of Medicine at Dartmouth and the White River Junction VA Medical Center in White River Junction, VT.