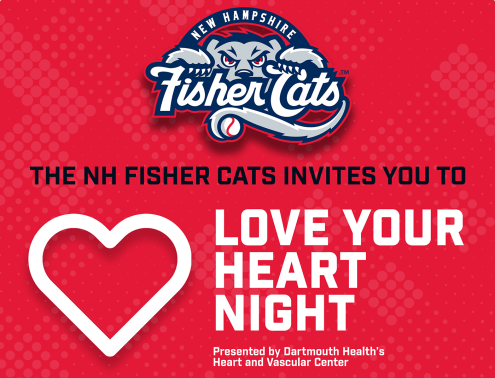 "Love Your Heart Night is an evening that is centered around heart health awareness and reducing the risk of heart disease.
Mark Creager, MD, director of the Heart & Vascular Center
Summer and baseball go hand in hand­­, as does heart-health awareness and Dartmouth Health's Heart & Vascular Center. Get your heart pumping at their 5th annual Love Your Heart Night at the Northeast Delta Dental Stadium where the Fisher Cats faceoff with the Erie Seawolves.
The evening will include free heart-health screenings, CPR demonstrations, fun educational activities and a powerful video message from Kelly George, an Enfield, NH resident, and heart transplant recipient. Kelly was born with an inherited cardiac condition called hypertrophic cardiomyopathy, which eventually lead to heart failure and a need for a new heart.
"Love Your Heart Night is an evening that is centered around heart health awareness and reducing the risk of heart disease," said Mark Creager, MD, director of the Heart & Vascular Center. "We are delighted to have Kelly as our guest of honor, as she has dedicated her post-transplant life to advocating for patients with heart disease. Her work with organizations like Donate Life and the American Heart Association has made her well known in those communities, but her story is one that should be heard by everyone. Kelly's journey with heart disease is unique, but her message is universal – listen to your body, and seek medical attention when something feels wrong. We hope everyone will join us to hear Kelly's story, share in the free heart health screenings and CPR demonstrations, and enjoy a great evening of baseball."
Join Kelly in wearing red for this informative and fun evening capped off with fireworks. Gates open at 6:00pm on Saturday, August 13, 2022. Tickets can be purchased online at nhfishercats.com or by calling 603-641-2005.
About Dartmouth Health
Dartmouth Health, New Hampshire's only academic health system and the state's largest private employer, serves patients across northern New England. Dartmouth Health provides access to more than 2,000 providers in almost every area of medicine, delivering care at its flagship hospital, Dartmouth Hitchcock Medical Center (DHMC) in Lebanon, NH, as well as across its wide network of hospitals, clinics and care facilities. DHMC is consistently named the #1 hospital in New Hampshire by U.S. News & World Report, and recognized for high performance in numerous clinical specialties and procedures. Dartmouth Health includes Dartmouth Cancer Center, one of only 56 National Cancer Institute-designated Comprehensive Cancer Centers in the nation, and the only such center in northern New England; Dartmouth Health Children's, which includes Children's Hospital at Dartmouth Hitchcock Medical Center, the state's only children's hospital, and multiple clinic locations around the region; member hospitals in Lebanon, Keene and New London, NH, and Bennington and Windsor, VT; Visiting Nurse and Hospice for Vermont and New Hampshire; and more than 24 clinics that provide ambulatory services across New Hampshire and Vermont. Through its historical partnership with Dartmouth and the Geisel School of Medicine, Dartmouth Health trains nearly 400 medical residents and fellows annually, and performs cutting-edge research and clinical trials recognized across the globe with Geisel and the White River Junction VA Medical Center in White River Junction, VT. Dartmouth Health and its more than 13,000 employees are deeply committed to serving the healthcare needs of everyone in our communities, and to providing each of our patients with exceptional, personal care.