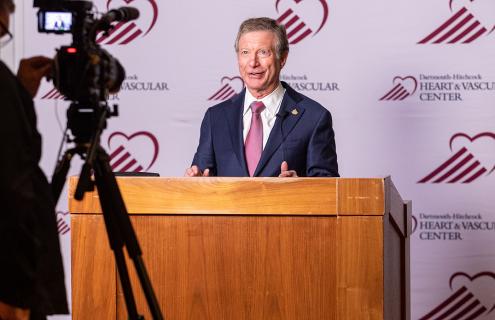 I'm honored that my passion and years of dedication to advancing cardiovascular research and improving the cardiovascular health of our communities has been recognized by an organization that has been an integral part my professional career
Mark A. Creager, MD,FAHA, FACC
Mark A. Creager, MD,FAHA, FACC, center director of the Heart and Vascular Center at Dartmouth-Hitchcock Medical Center is the recipient of the 2020 Gold Heart Award, the American Heart Association's (AHA) highest volunteer honor. The award is presented to an extraordinary volunteer whose contributions of time and talent have transformed communities and advanced the AHA mission nationally. The award was presented virtually on October 27, 2020 during the AHA's national volunteer recognition event.  
"The American Heart Association has profoundly changed my life professionally and personally," said Creager during his acceptance speech. "I'm proud to support its mission to be a relentless force for a world of longer, healthier lives."
As an American Heart Association volunteer for over three decades – including a term as president in 2015-16 – Creager helped embed peripheral vascular diseases into its construct, and enhance the research enterprise with collaborative and strategically focused programs. His distinguished career includes pioneering the Heart and Vascular Center at Dartmouth-Hitchcock in 2015, leading vascular initiatives at Brigham and Women's Hospital for 31 years prior and advancing medical understanding of atherosclerotic vascular disease through research.
"I wake up and look forward to each day's opportunities," said Creager. "I'm honored that my passion and years of dedication to advancing cardiovascular research and improving the cardiovascular health of our communities has been recognized by an organization that has been an integral part my professional career."
Read more about Creager's background here: https://www.heart.org/en/around-the-aha/powered-by-passion-creager-earns-organizations-highest-honors
About Dartmouth-Hitchcock Health
Dartmouth-Hitchcock Health (D-HH), New Hampshire's only academic health system and the state's largest private employer, serves a population of 1.9 million across northern New England. D-HH provides access to more than 2,000 providers in almost every area of medicine, delivering care at its flagship hospital, Dartmouth-Hitchcock Medical Center (DHMC) in Lebanon, NH. DHMC was named again in 2020 as the #1 hospital in New Hampshire by U.S. News & World Report, and recognized for high performance in 9 clinical specialties and procedures. Dartmouth-Hitchcock Health includes the Norris Cotton Cancer Center, one of only 51 NCI-designated Comprehensive Cancer Centers in the nation Children's Hospital at Dartmouth-Hitchcock, the state's only children's hospital; member hospitals in Lebanon, Keene, and New London, NH, and Windsor, VT, and Visiting Nurse and Hospice for Vermont and New Hampshire; and 24 Dartmouth-Hitchcock clinics that provide ambulatory services across New Hampshire and Vermont. The D-HH system trains nearly 400 residents and fellows annually, and performs world-class research, in partnership with the Geisel School of Medicine at Dartmouth and the White River Junction VA Medical Center in White River Junction, VT.