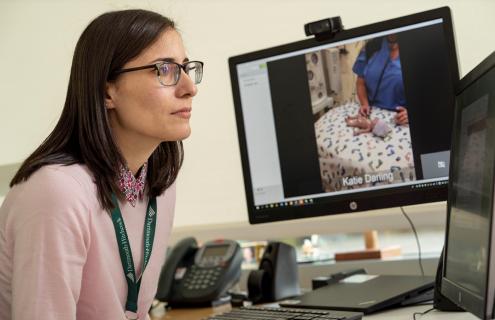 Monadnock Community Hospital (MCH) in Peterborough has partnered with Dartmouth-Hitchcock (D-H) Connected Care and Center for Telehealth to offer intensive care neonatology (TeleICN) and emergency psychiatry (TelePsychiatry) services to its patients via telemedicine. MCH is one of 31 rural hospitals in New England currently partnering with D-H Connected Care to provide patients with prompt access to specialty care which may not be available locally.
The birth of a baby is a complex process and adjusting to life outside the mother's body can sometimes require a higher level of care. TeleICN provides 24/7 real time assessment and treatment recommendations for babies born at MCH.TeleICN has been shown to reduce transfers, helping to keep patients and their families closer to home.
D-H's TelePsychiatry service provides MCH patients and clinicians access to board-certified psychiatrists. The service will support and assist local clinicians with assessing and treating patients in the emergency department or those admitted to the hospital who are experiencing psychiatric symptoms. Patients are evaluated, managed and treated in real-time collaboration with the local providers via telemedicine, allowing treatment to begin faster.
"Here in the Monadnock Region, the addition of TelePsychiatry services will be a tremendously valuable resource, given the complex needs and limited options available for patients in need of behavioral health care, " said Cyndee McGuire, President and CEO at MCH. "These are very difficult times and our collaboration with the D-H Connected Care program is adding vital service offerings to the patients we serve throughout our community."
Hospitals and health systems across the country are facing increased pressures – from lack of beds and overcrowding, to changing reimbursement models and declining numbers of specialists. In rural communities, the shortage is especially acute. Telehealth services can help hospitals increase access to evidence-based care by providing their clinical teams with specialty support.
With nearly two million people residing in rural communities across northern New England, telehealth will play an increasingly vital role in providing patients with access to the care they need within their own communities.
The D-H Connected Care Center was founded in 2012 with a primary objective of helping to deliver outstanding health care to the region independent of a patient's physical location. D-H telehealth services are designed to drive accessible, efficient and effective care by complementing and enhancing existing programs and services provided in local communities. D-H's Connected Care telehealth program currently serves more than 30 hospitals in New Hampshire, Vermont, Maine, Massachusetts and New York, providing services such as TeleEmergency, TeleICU, TeleICN (Intensive Care Neonatology), TeleNeurology, TelePharmacy, TelePsychiatry, and Outpatient Virtual Visits.
###
Monadnock Community Hospital (MCH) is a 25-bed Critical Access Hospital offering medical, surgical and Intensive Care, Obstetrics, Pediatrics, and Mental Health services. In addition, a wide variety of outpatient services are available, including an extensive Primary Care Network, Wellness, Cardiac and Physical Rehabilitation Services, 24-hour Emergency Care, a fully equipped laboratory and an extensive Radiology department. MCH is blessed with strong leadership and a dedicated medical community that allows us to meet the ever-changing requirements of today's healthcare environment. As that environment changes, MCH is also committed to changing and providing the communities we serve with appropriate and innovative programs.
About Dartmouth-Hitchcock Health
Dartmouth-Hitchcock Health (D-HH), New Hampshire's only academic health system and the state's largest private employer, serves a population of 1.9 million across northern New England. D-HH provides access to more than 2,000 providers in almost every area of medicine, delivering care at its flagship hospital, Dartmouth-Hitchcock Medical Center (DHMC) in Lebanon, NH. DHMC was named again in 2020 as the #1 hospital in New Hampshire by U.S. News & World Report, and recognized for high performance in 9 clinical specialties and procedures. Dartmouth-Hitchcock Health includes the Norris Cotton Cancer Center, one of only 51 NCI-designated Comprehensive Cancer Centers in the nation Children's Hospital at Dartmouth-Hitchcock, the state's only children's hospital; member hospitals in Lebanon, Keene, and New London, NH, and Windsor, VT, and Visiting Nurse and Hospice for Vermont and New Hampshire; and 24 Dartmouth-Hitchcock clinics that provide ambulatory services across New Hampshire and Vermont. The D-HH system trains nearly 400 residents and fellows annually, and performs world-class research, in partnership with the Geisel School of Medicine at Dartmouth and the White River Junction VA Medical Center in White River Junction, VT.