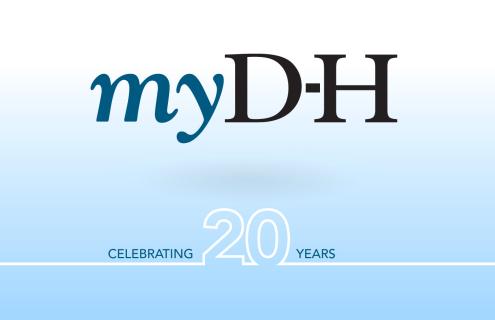 What started as a small pilot project in the Community Group Practice became a resource used by more than 300,000 patients. Since it first launched in 2001, as "Patient Online," myD-H has been the product of teamwork and collaboration guided by patient needs, making D-H a leader in patient portal technology.
History
Patient Online offered patients a way to communicate online with their providers' offices. "It was a cutting edge technology at the time," says Cheryl L. Rowe, operations manager, Health Information Services, who was part of a of a cross-functional implementation workgroup that included providers, Information Services and Communications and Marketing.
A pilot project that included a focus group of friends and families of employees in the D-H Nashua and D-H Manchester clinics began in July of 2001. After making changes based on user feedback, they opened Patient Online to the public in October of 2001. The portal offered basic services like scheduling appointments, messaging providers and paying bills, with features quickly expanding.
When D-H began planning its move to an electronic medical records (EMR) system, eD-H, the portal faced its first big challenge. Epic—who built the platform for eD-H—had their own version of a patient portal, and there was concern whether the patient data in Patient Online could be transferred into Epic's patient portal. When the vendors said the only way to do this was to manually enter the data, Shelley Sanyal, a systems programming analyst who was the implementation coordinator for the transition, wasn't satisfied with that answer.
She reached out to a team of three programmers on the Web Technical Team within Information Services, and asked if they could create a program that would transfer the data. Sanyal wasn't just concerned about the time and labor of manually entering information for 30,000 patients; she wanted to make sure the transition from one system to another was seamless for patients. "We didn't want our patients to have to make any major changes. We said, 'We can do this, and we can provide a better experience for our patients,'" says Sanyal.
Ayaz A. Asif, one of the three original programmers, remembers the efforts it took to make it all come together. Transferring the data was only part of the challenge. There was also work to be done to line up functions of the original portal with features of the new one. "No system comes out of the box perfect," says Asif. "We had to make a lot of adjustments to make all the parts work together."
On April 1, 2011, after nearly nine months of programming, patients logged into the portal without having to even create a new user name or password. "We were really proud of the transition. Patients didn't even know they had moved from one portal to the other," Sanyal says. The one major difference, it had a new name: "myD-H." 
Enhancements over the years
Patient accessibility and usability have been the driving force behind myD-H. "It's very patient-driven. Making it user-friendly was our main goal," says Sanyal.
The first significant enhancement to the portal was the ability for providers to share their notes with patients. "This function was pretty much unheard of at the time," says Rowe. "Patients could print immunization records or notes for school or work." Next came the "Release of Information" feature, which allowed a patient to download their medical records. D-H was the first organization in the country (using Epic) to use this feature.
Other integrations have followed, such as adding pre-check-in for appointments, providing a myD-H mobile app and appointment reminder text alerts.
A major achievement of the portal was its success in creating proxy accounts for parents, and giving adolescent access to their own accounts. With teens 12 to 17 protected by certain privacy laws in New Hampshire D-H needed to find a way to allow adolescents and parents to be partners in a teen's care.
The new myD-H patient portal allowed parents of teens proxy access to print immunization records and physical forms for school, and communicate with the patient care team, which Patient Online could not allow after the child turned 12. A new shared decision-making process involving providers, patients and parents requires all three to agree what other kinds of information to share and what to keep private.
"We thought it was important for the parents and their teens to work together on their health so that the adolescent could learn and be guided," says Keith Loud, MD, MSc, physician-in-chief, Children's Hospital at Dartmouth-Hitchcock (CHaD). It's also an opportunity for adolescents to develop their independence. "An engaged teen can begin to manage their own care," says Loud.
Viewed as a model for patient portal communications, Rowe and Sanyal have presented at Epic conferences and The American Health Information Association. And health care organizations often reach out for advice on setting up and managing a portal.
The use of myD-H during the pandemic
Since the start of the pandemic, the number of myD-H new users has doubled. It has also lead to innovative changes. With patients asked to stay at home and out of health care facilities, myD-H quickly implemented video visits with providers. Patients could log into myD-H and see their providers from the safety of their home, include family members from miles away and keep appointments that might otherwise have to be canceled due to bad weather.
The future
Developing myD-H has been a team effort among a number of interdisciplinary teams.
"It's an opportunity for us to grow and push ourselves," says Stacy L. Lacourciere, manager, Applied Systems Analysis. Lacourciere is responsible for putting into action what Rowe and others would like to see implemented based on patient feedback and needs. With features on the horizon such as automated texting when a patient arrives in the parking lot to offer mobile check-in or a self-triage that gets patients to the services or provider who can best assist them. "The possibilities are endless," says Lacourciere.