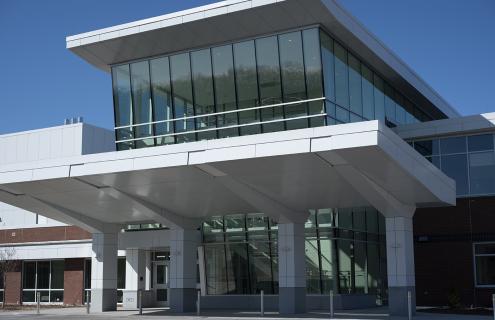 This ASC helps patients recover at home, instead of in a hospital. With extended stay services up to 23 hours, it provides patients the convenience of safe, same-day surgeries
Karinne M. Jervis, MD
Nearly two years after breaking ground, Dartmouth-Hitchcock (D-H) is pleased to announce its new Ambulatory Surgery Center (ASC) at D-H Manchester will open in late April for same-day surgeries. This multispecialty, 90,000-square-foot expansion features nine operating rooms: six state-of-the-art operating rooms, and three minor operating rooms for endoscopy, colonoscopy and gastroenterology procedures.
Initially after opening, the ASC will treat patients in need of colonoscopy, ear, nose and throat (ENT), gastroenterology and orthopedic services. Additional specialties will be offered in subsequent phases.
This expansion is the first of its kind for the Manchester area—and for Dartmouth-Hitchcock (D-H). The center will provide patients a centralized location to access D-H providers and staff, and allows D-H more control over delivery of services, which will help to drives down costs and makes health care more affordable for everyone.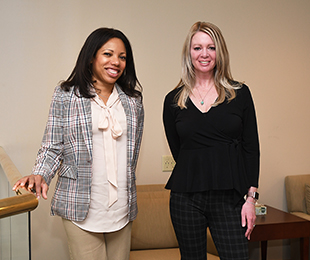 "This ASC helps patients recover at home, instead of in a hospital. With extended stay services up to 23 hours, it provides patients the convenience of safe, same-day surgeries," says Karinne M. Jervis, MD, the medical director of the ASC and associate medical director of PeriOperative Services for the Community Group Practice (CGP). "The ASC will effectively improve patient satisfaction while delivering quality care, lower costs and centralized D-H management."
The ASC is located on the first floor of the addition, while the second floor features specialty department space for providers and patients (Gastroenterology, General Surgery, Orthopedics, etc.). An Infusion Center, Laboratory, Pharmacy and imaging services are also located upstairs. An onsite café and outdoor seating are available for the convenience of patients and their families.
Heather A. Long, MSN, MBA, RN, CNOR, director of PeriOperative Services, CGP, hired more than 60 new employees to staff the ASC. She worked throughout the COVID-19 pandemic to recruit anesthesiologists and surgeons, along with nurses and clinical staff with prior ASC, operating room or post-anesthesia care unit experience.
"This build is bringing together communities in the southern region for excellent care at an affordable price point," Long says. "We're taking care of patients 'just down the street'—instead of them having to travel to Lebanon or Boston."
The ASC's PeriOperative team is thrilled for the opening. "There is so much enthusiasm among the D-H community and the local community for the new ASC. It will be a great benefit for our patients," Jervis explains. "We'll open safely, and everything will be efficient and effective."