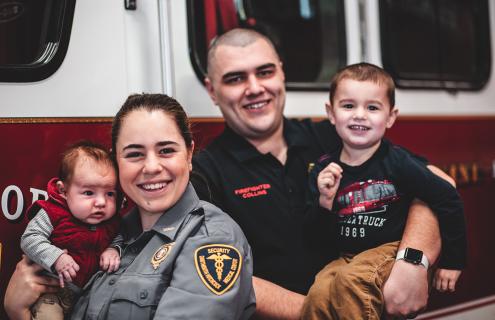 Last year started off difficult for Rachel and Troy Collins, as it did for most people. When COVID-19 locked down the economy in March of 2020, Rachel lost her job in daycare. As a firefighter/paramedic in Hartford, Vermont, Troy had to adjust quickly to changing conditions and safety protocols. But there was a bright spot. The Collins' found out that their 2-year-old son, Hayden, was going to be a brother.
"My whole pregnancy would happen during COVID-19, and, at first, we were worried about my not having a job and not knowing what Troy might bring home from work," says Rachel. "Our parents were worried about getting or passing along COVID. It was helpful for all of us to have something to look forward to."
"As time went on, we became more and more efficient at staying safe," says Troy. A big part of staying safe was staying home, even for prenatal care. "Early on, most of my visits were through telehealth," says Rachel. "I had less face-to-face time with my physician, but this was my second birth, so that was okay," she says. "When I did have in-person visits, Troy could come with me."
COVID-19 also canceled the fun parts of pregnancy. There were no baby showers or babymoons (a quiet getaway) for Rachel and Troy. Rachel worried that the upcoming quiet of the hospital would also put a damper on the birth experience, but she and Troy quickly realized the advantage of a calm Birthing Pavilion.
"I was induced on a day where there weren't many people in the DHMC Birthing Pavilion," says Rachel. "It was just me, Troy and the staff. We were masked the whole time, even during labor, which was hard." 
"I thought not having visitors would be difficult too," says Rachel. "You want the birth to be a happy time and, without people stopping by, I thought we'd lose that. But it was nice to be just the three of us for a day. We were able to focus on our new baby, Rhett, and bond with him."
They also got something that every new parent needs, sleep. "They say to sleep when the baby sleeps, but that's hard when you have visitors," says Troy. "It helped to get some rest before bringing Rhett home to meet Hayden."
Thanks to the Birthing Pavilion staff, who were adept at taking care of COVID-19 era births, the Collins family got a lot of appreciated attention. "They were wonderful and took such good care of us," says Rachel. "Imani Gaetjens-Oleson, for example, spent hours helping us out. While I was receiving medication, she took care of Rhett, which was great." 
The Collins are settling into life as a family of four. Big brother Hayden is an enthusiastic helper. Rachel is also settling into a new job that she enjoys, in a place that means a lot to her family, as a security officer at DHMC.