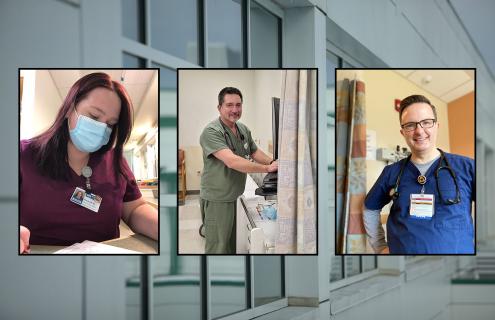 More people are choosing to continue their education while working, which is a big consideration when programs are developed. We want to support professional learners.
Jennifer Holl, director of Professional Learning, Colby-Sawyer College
The end of Mary Hitchcock Memorial Hospital's nursing program in 1980 was the beginning of the hospital's long relationship with Colby-Sawyer College in New London, New Hampshire. To address the need for nursing education, Colby-Sawyer created a Bachelor of Science degree in nursing that sent students to Dartmouth-Hitchcock Medical Center (DHMC)for clinical rotations. 
"The partnership now reaches across the spectrum of nursing and health sciences," Colby-Sawyer Dean and Director of Clinical Partnerships for the School of Nursing & Health Sciences Kevin Finn says. "We work closely with Dartmouth-Hitchcock Health (D-HH) to understand future workforce needs and how we can develop innovative academic programs to meet them."
Those conversations have led to the development of programs, curricula and delivery methods that best meet the needs of D-HH employees who want to start or advance in health system careers. 
Along with the existing academic programs offered at Colby-Sawyer, these new programs present a great opportunity for Dartmouth-Hitchcock employees looking to continue their education and develop a skill set to grow their careers. The Nursing and Health Science at Colby-Sawyer now include: 
Associate of Health Science 
Bachelor of Science in Health Studies 
Registered Nurse to Bachelor of Science
Accelerated Bachelor of Science in Nursing
Registered Respiratory Therapist to Bachelor of Science
Master of Science in Nursing
Deciding to continue your education is a big decision. "More people are choosing to continue their education while working, which is a big consideration when programs are developed. We want to support professional learners," Colby-Sawyer Director of Professional Learning Jennifer Holl says. "Careers in nursing and respiratory therapy demand lifelong learning. There is always new research and new evidence-based practice information coming out, and earning a bachelor's degree is a great way to advance learning and practice. Additionally, individuals who want to pursue  leadership positions are more competitive with a bachelor's or master's degree."
Career opportunities

Employees who are not currently nurses might consider the career opportunities nursing offers through Colby-Sawyer's Accelerated Bachelor of Science in Nursing. This 18-month program is open to individuals who currently have a bachelor's degree in another discipline. "You can do so many things with a nursing degree," says Holl, who is a registered nurse. "Nurses can work at the bedside, go into research, work for pharmaceutical companies, provide health care services inside corporations and schools, lead teams and teach." 
Other career paths like medical assistant, pharmacy technician and surgical technologist are possibilities through Colby-Sawyer's Bachelor of Science in Health Studies. "Employees with an associate's degree can advance their careers in allied health care systems with a Bachelor of Science in Health Studies," Holl says. "The program can be completed either online or on-campus and combines a liberal arts foundation with courses in science, research, quality improvement and leadership."
Programs offer rolling admissions and a preferred undergraduate tuition rate of $270 per credit hour and a graduate tuition rate of $575 per credit hour for D-HH employees. Online classes and flexible scheduling help students maintain work/life balance, and credits from other degree programs, certifications, licensure and work experience are often transferrable. 
"Colby-Sawyer is very invested in every student enrolled in these programs," Holl says. "We're a small school, so students and professors know each other. Academic and career counseling is personalized, and professors and mentors help students carve out the right path. Students get an exceptional experience."
For more information, visit http://colby-sawyer.edu, email healthprofessions@colby-sawyer.edu or call 603-526-3700.