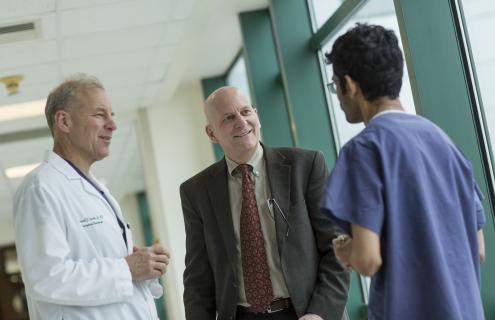 We are thrilled to receive the 2021 NH Product of the Year award—a well-deserved recognition of the hard work of a whole team of clinicians, engineers and entrepreneurs.
Richard J. Barth, MD
Judges and audience voters have selected the Breast Cancer Locator (BCL™) as the New Hampshire Tech Alliance 2021 Product of the Year. The BCL™ is in development as an innovative new medical product in part by Keith D. Paulsen, PhD, co-Director of the Translational Engineering in Cancer (TEC) Research Program at Dartmouth's and Dartmouth-Hitchcock's Norris Cotton Cancer Center (NCCC) and professor of engineering at Dartmouth, and surgical oncologist and TEC Member, Richard J. Barth, Jr., MD. Paulsen, Barth, and former Dartmouth faculty member, Venkat Krishnaswamy, PhD, are co-founders of medtech company CairnSurgical, Inc., originating from research out of Dartmouth-Hitchcock Medical Center and Dartmouth's Geisel School of Medicine and Thayer School of Engineering.
"We are thrilled to receive the 2021 NH Product of the Year award—a well-deserved recognition of the hard work of a whole team of clinicians, engineers and entrepreneurs," says Barth.
The BCL™ is a custom form 3D-printed at CairnSurgical, Inc., for each individual patient based on her own anatomy and tumor size and location. The form is used as a guide along with supine (patient lying face up) MRI data and proprietary software to assist surgeons in locating and removing breast tumors to reduce positive margins, or cancer at the edge of the lumpectomy tissue. Removing the cancer completely in one surgery reduces the need for additional surgeries, and can potentially provide a better cosmetic result for patients and allow surgeons more time to help more patients, while reducing costs for the hospital.
In 33 pilot study cases at NCCC and at several sites in New Hampshire and New England, use of the BCL™ resulted in zero positive margins and repeat surgeries. The product is now in a 450-patient global study. "I think the current clinical trial will be positive from everything that I can see," says Paulsen. "The device works, and we think it could be easily adopted into the operating room." Early BCL™ research and development was made possible with funding from the National Cancer Institute, the Small Business Innovation Research Program, and philanthropic support from a community member.
During the 15th annual NH Tech Alliance Product of the Year event on October 28, the five finalists presented a seven-minute pitch about their projects. The virtual audience actively engages as 50 percent of the vote alongside the expert judges panel to select the winner.
Simon Khagi, MD, Associate Oncology Service Line Director for Southern New Hampshire and the medical director of NCCC Manchester, Nashua and Concord introduced CairnSurgical, Inc. CEO David Danielsen, who presented the BCL™ on behalf of the product's development team.
"Imagine you've just been told you have breast cancer and need lumpectomy surgery to remove the tumor and a margin of healthy tissue. That's devastating news and I'm sorry that for some of you it's reality. Fast forward three weeks when your surgeon calls to tell you that they were not able to get the entire tumor and you need come back for a second surgery," began Danielsen, who went on to describe the upsetting challenges associated with this result, which occurs in 20–25% of lumpectomies in the world every year (50,000 surgeries and almost half a billion dollars in the U.S. alone). Danielsen explained why lumpectomy results are often less than optimal and how the BCL™ and accompanying interactive 3D visualizer is designed to provide the critical missing information that surgeons and radiologists need, quickly and painlessly for the patient.
"The team at CairnSurgical demonstrates the critical role technology plays in improving patient care. New Hampshire should be proud that a technology like the Breast Cancer Locator, which has the potential to improve the outcomes and overall experience of patients battling this disease, is being developed right in our own backyard," said Julie Demers, executive director of the NH Tech Alliance in a press release Monday.
Congratulations to the entire CairnSurgical, Inc. BCL™ development team. To view the event and hear Danielsen's BCL™ presentation (47:25) and competition results (1:08:37), please watch here.
About Dartmouth-Hitchcock
DARTMOUTH-HITCHCOCK HEALTH (D-HH), New Hampshire's only academic health system and the state's largest private employer, serves a population of 1.9 million across Northern New England. D-H provides access to more than 2,400 providers in almost every area of medicine, delivering care at its flagship hospital, Dartmouth-Hitchcock Medical Center (DHMC) in Lebanon, NH. DHMC was named in 2019 as the #1 hospital in New Hampshire by U.S. News & World Report, and recognized for high performance in 13 clinical specialties and procedures. Dartmouth-Hitchcock Health also includes the Norris Cotton Cancer Center, one of only 51 NCI-designated Comprehensive Cancer Centers in the nation; the Children's Hospital at Dartmouth-Hitchcock, the state's only children's hospital; affiliated member hospitals in Lebanon, Keene, and New London, NH, and Windsor, VT, and Visiting Nurse and Hospice for Vermont and New Hampshire; and 24 Dartmouth-Hitchcock clinics that provide ambulatory services across New Hampshire and Vermont. The D-H system trains nearly 400 residents and fellows annually, and performs world-class research, in partnership with the Geisel School of Medicine at Dartmouth and the White River Junction VA Medical Center in White River Junction, VT.
About the Geisel School of Medicine at Dartmouth
The Geisel School of Medicine at Dartmouth, founded in 1797, strives to improve the lives of the communities we serve through excellence in learning, discovery, and healing. The nation's fourth-oldest medical school, the Geisel School of Medicine has been home to many firsts in medical education, research and practice, including the discovery of the mechanism for how light resets biological clocks, creating the first multispecialty intensive care unit, the first comprehensive examination of U.S. health care cost variations (The Dartmouth Atlas), and the first Center for Health Care Delivery Science, which launched in 2010. As one of America's top medical schools, Dartmouth's Geisel School of Medicine is committed to training new generations of physician leaders who will help solve our most vexing challenges in health care.
About Norris Cotton Cancer Center
Norris Cotton Cancer Center, located on the campus of Dartmouth-Hitchcock Medical Center (DHMC) in Lebanon, NH, combines advanced cancer research at Dartmouth College's Geisel School of Medicine in Hanover, NH with the highest level of high-quality, innovative, personalized, and compassionate patient-centered cancer care at DHMC, as well as at regional, multi-disciplinary locations and partner hospitals throughout NH and VT. NCCC is one of only 52 centers nationwide to earn the National Cancer Institute's prestigious "Comprehensive Cancer Center" designation, the result of an outstanding collaboration between DHMC, New Hampshire's only academic medical center, and Dartmouth College. Now entering its fifth decade, NCCC remains committed to excellence, outreach and education, and strives to prevent and cure cancer, enhance survivorship and to promote cancer health equity through its pioneering interdisciplinary research. Each year the NCCC schedules 61,000 appointments seeing nearly 4,000 newly diagnosed patients, and currently offers its patients more than 100 active clinical trials.