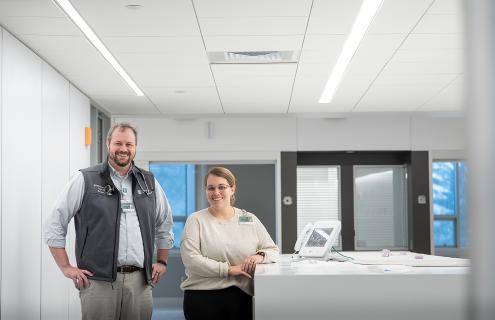 The space in the new Pavilion will allow us to flex up our capacity to provide the care we know is needed in the region.
Richard Saunders, MD
When Dartmouth Health's new Patient Pavilion at Dartmouth Hitchcock Medical Center (DHMC) opens in May 2023, it will add an entirely new department: the Medical Specialty Care Unit (MSCU). The new space will feature 16 beds for patients who need a level of care in between floor-level and critical care.
"In the MSCU, the nurse-to-patient ratio will be smaller, and the monitoring more intense and frequent," said Michelle Graham, RN, nurse manager for Medical Specialties Units, who, along with hospitalist Richard Saunders, MD, is leading planning for the MSCU. "Patients will get more individualized attention because they will be sicker than our regular patient population."
These intermediate beds, also called stepdown beds, are an in-demand resource. "More stepdown beds will improve our ability to care for medically complex patients who need a higher level of care than we can provide on the floor, and free up our ability to care for the sickest patients in the region who need to be in our critical care units," said Graham.
The new space offers a state-of-the-art, interdisciplinary approach to patient care, filled with new technology like integrated patient dashboards and MyChart Bedside, which allows patients to interact with their provider teams right at their fingertips. Each room is also family-centered, offering privacy and designed to allow for a visitor to easily stay in the room with the patient.
The MSCU will also offer DHMC flexibility, with the majority of beds being acuity adaptable. "The idea is that we will be able to provide both stepdown and general medical care within one space. That means we won't have to move patients quite as often, which will improve the patient experience," said Saunders. "The space in the new Pavilion will allow us to flex up our capacity to provide the care we know is needed in the region. The goal here is to do more of what we already do really well, which is to work within teams to provide the best care possible to patients and their families."
About Dartmouth Health
Dartmouth Health, New Hampshire's only academic health system and the state's largest private employer, serves patients across northern New England. Dartmouth Health provides access to more than 2,000 providers in almost every area of medicine, delivering care at its flagship hospital, Dartmouth Hitchcock Medical Center (DHMC) in Lebanon, NH, as well as across its wide network of hospitals, clinics and care facilities. DHMC is consistently named the #1 hospital in New Hampshire by U.S. News & World Report, and recognized for high performance in numerous clinical specialties and procedures. Dartmouth Health includes Dartmouth Cancer Center, one of only 56 National Cancer Institute-designated Comprehensive Cancer Centers in the nation, and the only such center in northern New England; Dartmouth Health Children's, which includes Children's Hospital at Dartmouth Hitchcock Medical Center, the state's only children's hospital, and multiple clinic locations around the region; member hospitals in Lebanon, Keene and New London, NH, and Bennington and Windsor, VT; Visiting Nurse and Hospice for Vermont and New Hampshire; and more than 24 clinics that provide ambulatory services across New Hampshire and Vermont. Through its historical partnership with Dartmouth and the Geisel School of Medicine, Dartmouth Health trains nearly 400 medical residents and fellows annually, and performs cutting-edge research and clinical trials recognized across the globe with Geisel and the White River Junction VA Medical Center in White River Junction, VT. Dartmouth Health and its more than 13,000 employees are deeply committed to serving the healthcare needs of everyone in our communities, and to providing each of our patients with exceptional, personal care.